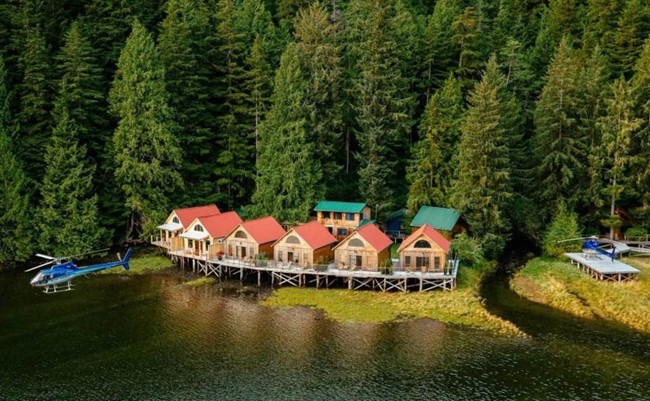 Nimmo Bay Wilderness Resort boasts high exclusivity; the inimate family owned and operated resort is only accessible by air or water. According to their website, the journey to the resort is a great adventure in itself. Located considerably within the Great Bear Rainforest in British Columbia, the remote getaway does not have road access. Purchasing a stay at the resort does entitle you to their helicopter or floatplane, however. If you have you own floatplane or helicopter, their website also provides instructions on how to make your way there.
The resort has even earned itself the coveted title of National Geographic's Unique Lodges of the World, which recognizes extraordinary experiences in "a network of world-class accommodations where sustainability is the touchstone and the guest experience is exceptionally rich and meaningful."
The resort features seasonal Heli-Fishing from July 19th – October 20th every year, and is perfect for seasoned anglers and beginners. Wild Pacific Salmon fill the isolated streams among other fishes including Coho, Chinook, Pinks and Steelhead, Dolly Varden Char, Rainbow, and Cutthroat Trout.
The 50,000 square miles of terrain where over 50 streams and rivers lie are completely accessible with their helicopters, and seasoned guides and pilots promise to stay will you all day.
The Resort has nine large solid wood cabins that boast stunning views of the surrounding bay; their six Intertidal Cabins allow the unforgettable experience of the tide rising and falling right beneath you. Streamside cabins are family favorites, located beside the tranquil waterfall. All cabins are equipped with standard in-room amenities and services, including a complimentary mini bar, Mission Hill red and white wine, Starbucks VIA instant coffee, standard toiletries and a Nimmo Bay stainless-steel water bottle for each guest to take home.
(Photos: Nimmo Bay)