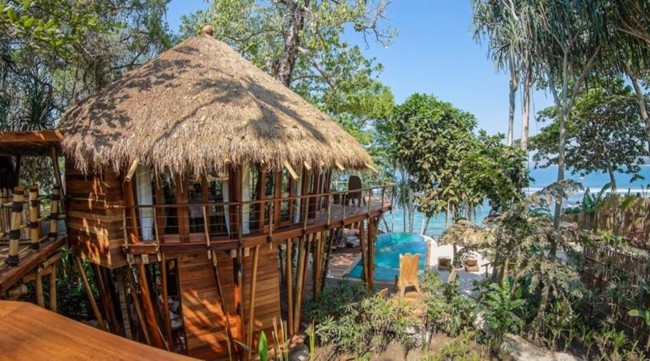 The luxury Indonesian resort Nihiwatu, most recent winner of the 2015 PURE Design Award, has launched three new signature villa residences to complete the resort's existing 21 villa estate offering, including the long awaited Mamole Tree House which has just been unveiled in November 2015. Designed by German architect Walter Wagner, with interiors by Marco Scarani and Susan Colley, Mamole Tree House is 'Sumbanese' in style and features traditional touches including beautiful local carvings, antiques and Ikat prints.
The Tree House is a unique, whimsical and spacious 3-bedroom tree house complex, elevated on wooden stilts between Nihi's ancient trees. The tree-house configuration has been designed for the fun-hearted, adventure lover and is perfect for families, groups of friends or honeymoon romance. Mamole has the best view of the beach and brings the outdoors in. Two of the two-storey, circular villas offer a lounge area on the entry level, with the bedroom, bathroom and balcony on the upper level.
A bamboo bridge connects the two tree-houses and a shared infinity pool with lounging deck features on the front. The main Mamole Tree House includes a private infinity pool and large living area with bathroom on the entry level, and upstairs, a bedroom with a bathroom, balcony and connecting bridge to the main outdoor bathroom. Traditional Sumbanese carvings, antiques, local wood and Ikat prints are featured throughout the tree house complex.