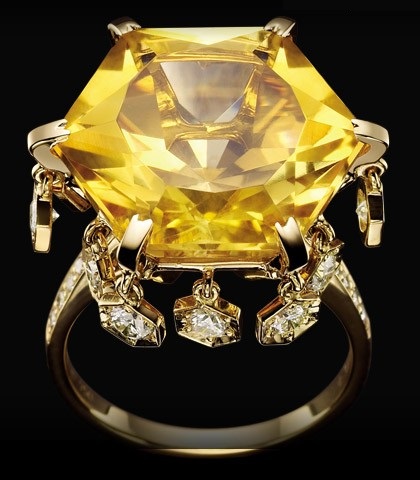 Inspired by honeycombs, the Magic Gardens by Piaget consists of a hexagonal-shaped sautoir necklace and ring incorporating precious stones and yellow gold (or white gold).
The bonbon-shaped ring is adorned with a 14-carat citrine, while diamonds are set into the gold honeycomb motifs around the hexagonal-cut stone.
The necklace – with the option of changing the length – is lined with lilac amethysts, red rhodolites, honey-yellow citrines and white diamonds to lend a look of candied elegance to a variety of moods and modes of dress.
The necklace is in 18-carat yellow gold set with citrines, rhodolites, amethysts and 18 brilliant-cut diamonds while the ring 18-carat yellow gold set with a citrine and 24 brilliant-cut diamonds.