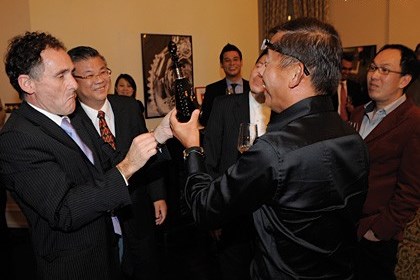 Remy Cointreau Asia Pacific and Citigold Select presented the Louis XIII cognac to an exclusive group of connoisseurs – including the WardrobeTrendsFashion team – at the Raffles Hotel, Singapore recently. Louis XIII International Ambassador Patrick Mariuz took the group through the nature of this most regal of cognacs. The night featured a special guest appearance by the famed Louis XIII Rare Cask.
The dinner at the Sir Stamford Raffles Suite relaxed and refined, with Mariuz and the Remy Cointreau team taking their time to make a proper introduction for the their 'King of Cognacs.' In fact, Louis XIII did not grace the dinner table with its royal presence. Mindful of competition with the flavors from the meal, Remy Cointreau saved the tasting for an after-dinner session.
As you can see from the pictures, there was plenty of pomp and circumstance in the meet-and-greet session with Louis XIII, which was only appropriate given that some of the flavors in the exquisitely curved bottle have been waiting for us for more than 100 years.