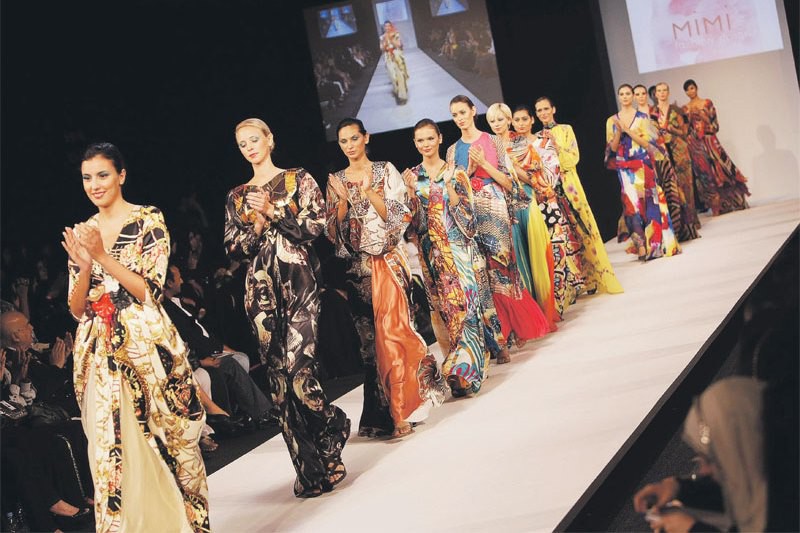 WTF is always on the prowl for the latest Fashion Trends across the globe, here we have put together a list of fashion-centric bloggers from United Arab Emirates (UAE) from cities like Abu Dhabi (capital), Ajman, Dubai, Fujairah, Ras al-Khaimah, Sharjah, and Umm al-Quwain, for you to check out.
Check out the list below, sorted according to alphabetical order.
If you know any more Fashion bloggers to be added to the list, please feel free to comment in the box below, our writers will update accordingly. 
(Dubai Fashion Week's organisers have pulled out all stops to bring the event on par with international shows. Source: emirates247 | EB FILE)
Started in 2012, this cool street blog documents individual, unique and interesting fashion from the streets of Dubai (and not only the streets). The project features stylish, attractive, and amazingly well-dressed folks around the city: on the streets, at fashion shows, art events etc.
Olga Lobanova, founder and photographer of Sand in The City, was inspired by similar projects around the globe and decided to start a pioneering street style blog here in Dubai. All images taken by her are captivating, high-quality, and inspiring.
Teresa Karpinska is one of the best UAE fashion bloggers. She is a Swedish fashion stylist who currently lives in Dubai. Her blog Style Drifter (more of a website),  consists of a lot of fashion news and tips. The blog not only talks about what is being worn lately, but also what cosmetics are most suitable according to the season and climate of UAE.
Fashionably Yours is another fashion blog. The blog comprises of dress reviews, what accessories are being worn currently and make-up reviews according to the climate of UAE. In addition to that, this blog also holds give away for its readers so while reading you can also try winning a few stuffs to add to your fashion collection.
Aiisha is one of the most experienced UAE fashion bloggers since she is a fashion designer of her own label. Since she is a professional in the field of fashion you can expect correct information from her blog. Her blog mainly promotes the Western fashion garments.
At She9, there is less to read and more to see. Scrolling down the page you will get to see a vast variety of pictures which talk for themselves. This blog mainly focuses on Eastern fashion such as saris, shalwar kameez, Indian and Pakistani wear, henna designs and the Gulf abaya designs. If you are an Asian, then this blog will interest you the most since they have got those fashion news which you can easily follow.
As the name suggests, this blog has got a collection of abaya designs which are worn daily by the Emiratis and women living in UAE. Apart from getting to see a wide variety of Gulf abaya designs on Dubai Abaya Collection, you can also order a design you like as they are an online retail shop.
Anna McCormack at my small obsessions has turned her two passions; writing and fashion into a full time blogging. It talks everything about fashion, shopping and beauty. The blogger usually highlights the lacking fashion in Abu Dhabi and hence for this reason the blog is read by my people living in Abu Dhabi.
At Huda Beauty, you will come across numerous beauty product reviews. She is an award winning blogger and a Hollywood trained celebrity make-up artist who is living in Dubai. She started blogging in 2010 and within 3 years she has won hearts of many beauty and fashion freaks.
Lastly, The Fierce Diaries is owned by a 23 year old Nadya Hassan living in UAE. Her blog provides some really amazing dressing ideas in forms of pictures rather than words.