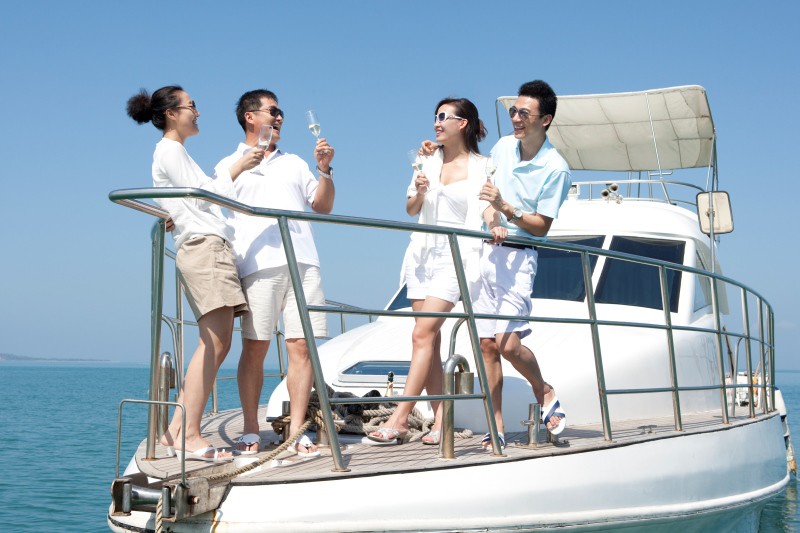 With a combined wealth of $29.6 billion, South Korea's Lee family behind the storied Samsung Group is the richest family in Asia, according to the 2016 Forbes list of Asia's Riches Families. Thailand's Chearavanont family, which runs the Charoen Pokphand Group, ranked 2nd on the top-earning families in the continent, with a net worth of $27.7 billion.
The Ambani family from India saw their wealth rise from US$21.5 billion last year to US$25.8 billion this year and they are now sitting on the third spot.
Indian families stood out on the list, with 17 out of the top 50 families hailing from India,  up from 14 last year.
The Kwok family from Hong Kong claimed the fourth spot with a wealth of US$25.2 billion.
The minimum net wealth to qualify for the list was $3.4 billion. Collectively, the top 50 richest families are worth $519 billion.
(Photo: Blue Jean Images | Getty Images via CNBC)
———————————————————————
Rounding up the
Top 50 Richest Families in Asia

are:
| Ranking# | Family Names | Country | Networth |
| --- | --- | --- | --- |
| 1 | Lee | South Korea | $29.6 billion |
| 2 | Chearavanont | Thailand | $27.7 billion |
| 3 | Ambani | India | $25.8 billion |
| 4 | Kwok | Hong Kong | $25.2 billion |
| 5 | Lee | Hong Kong | $24.7 billion |
| 6 | Hartono | Indonesia | $18.6 billion |
| 7 | Kwek/Quek | Singapore, Malaysia | $18.5 billion |
| 8 | Cheng | Hong Kong | $17.3 billion |
| 9 | Tsai (Financial) | Taiwan | $15.3 billion |
| 10 | Hinduja | India, UK | $14.9 billion |
| 11 | Premji | India | $14.6 billion |
| 12 | Chung | South Korea | $14.5 billion |
| 13 | Mistry | India | $14 billion |
| 14 | Chirathivat | Thailand | $13.8 billion |
| 15 | Kuok | Singapore | $13.4 billion |
| 16 | Mittal | India | $13.2 billion |
| 17 | Sy | Philippines | $12.8 billion |
| 18 | Saji | Japan | $12.7 billion |
| 19 | Godrej | India | $12.3 billion |
| 20 | Pao | Hong Kong | $11.3 billion |
| 21 | Kadoorie | Hong Kong | $9.9 billion |
| 22 | Birla | India | $9.6 billion |
| 23 | Ng | Singapore | $8.7 billion |
| 24 | Mori | Japan | $8.6 billion |
| 25 | Widjaja | Indonesia | $7 billion |
| 26 | Bajaj | India | $6.9 billion |
| 27 | Law | Hong Kong | $6.5 billion |
| 28 | Lohia | Indonesia | $6.3 billion |
| 29 | Khoo | Singapore | $6.2 billion |
| 30 | Koo | South Korea | $6 billion |
| 31 | Burman | India | $5.8 billion |
| 32 | Bangur | India | $5.75 billion |
| 33 | Salim | Indonesia | $5.7 billion |
| 34 | Tsai (Eng-Meng) | Taiwan | $5.6 billion |
| 35 | Kwee | Singapore | $5.4 billion |
| 36 | Lal | India | $5.3 billion |
| 37 | Zobel | Philippines | $5.1 billion |
| 38 | Jindal | India | $5 billion |
| 39 | Aboitiz | Philippines | $4.95 billion |
| 40 | Patel | India | $4.9 billion |
| 41 | Wee  | Singapore | $4.6 billion |
| 42 | Munjal | India | $4.3 billion |
| 43 | Kushal Pal Singh | India | $4.26 billion |
| 44 | Lim | Malaysia | $4.25 billion |
| 45 | Lo | Hong Kong | $4.2 billion |
| 46 | Hiranandani | Singapore | $3.8 billion |
| 47 | Koo | Taiwan | $3.7 billion |
| 48 | Dhingra | India | $3.6 billion |
| 49 | Cho | South Korea | $3.5 billion |
| 50 | Piramal | India | $3.4 billion |