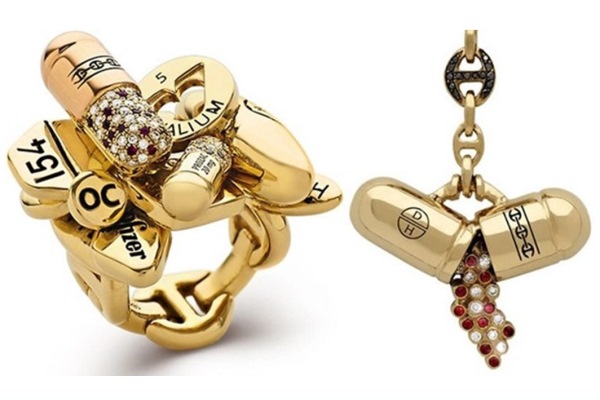 Remember Damien Hirst's custom-made silver pill cufflinks from a few years ago? Never mind them now. Hirst's penchant for pill-shapes has taken him into the house of Hoorsenbuhs, purveyors of luxury jewelry for whom he has designed a two-piece collection. And several rankings up on our people-to-follow list!
Created under the Hirst-founded, Other Criteria, the macabre-obsessed artist's latest outing titled Cathedral Collection features a limited-edition statement cocktail ring and a rosary necklace. I know you must be wondering where a pill fits in rosary! Why of course, where earlier there used to be a crucifix! Replacing the traditional image of Jesus on the cross with a Hirst-monogrammed golden pill that has been cracked open, the 'Pill Rosary' gurgles with tiny rubies and black and white diamonds as opposed to religion.
As is the cocktail ring! Set with rubies, white diamonds and black diamonds and more than a single capsule, 'Pill Ring' is a bejeweled ode to Hirst's iconic pill cabinet installations. Available 18K yellow gold, rose gold or white gold, both 'Pill Rosary' and 'Pill Ring' come in limited editions of 25. While the latter is priced at £18,000 ($28,000), the former is listed at a staggering rate of £43,200 ($68,000).