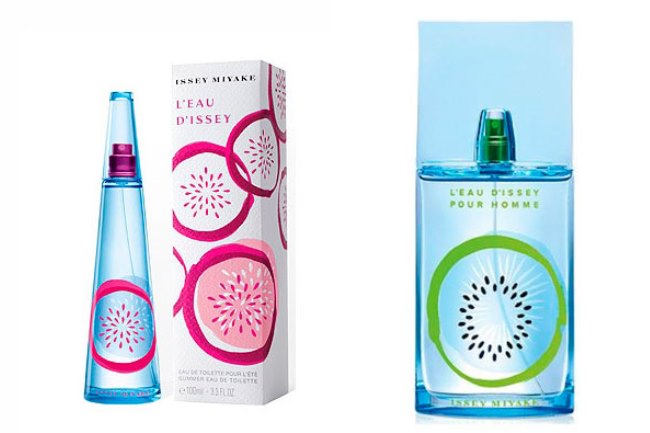 Issey Miyake is launching two new limited edition summer fragrances for 2013 –L'Eau d'Issey and L'Eau d'Issey Pour Homme. The creator of these new flankers is Alberto Morillas.
Issey Miyake L'Eau d'Issey Eau de Toilette
Alberto Morillas has captured various fruity  facets and lively colors in a perfume. For the top notes, he drew from the slightly acidic flavors of grapefruit and lychee. In the the heart, he has combined a lively freshness with sparkling accents of passion fruit and guava. Finally, he refines all these flavors with a hint of femininity in which he softens the base notes with floral, slightly aquatic notes, before it mixes with the warm, rich fragrance of wood and vanilla.
Issey Miyake L'Eau d'Issey Pour Homme Eau de Toilette
Following the refreshing female version , for the masculine fragrance  he chose the crisp freshness of the Kiwi and  combined it with spicy and fruity notes: In the top notes of coriander and grapefruit give a touch of bitterness . In the heart chord are joined by the same as lively as masculine aromas of pineapple and nutmeg. Finally Alberto Morillas has connected these fruits and spices with flavors of wood that give the perfume its low note: vetiver and cypress mingle to create a sensual and passionate scent.
Top notes: kiwi, grapefruit, coriander
Heart: pineapple, nutmeg
Base: vetiver, cypress
The bottles retain the original shapes of the line decorated with fruity motifs.
Available as 100 ml  and 125 ml Eau de Toilette.