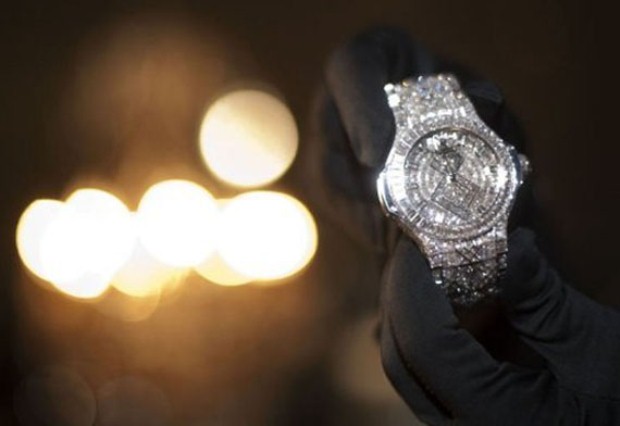 Bloomberg reported on the then-forthcoming Hublot $5-million women's wristwatch back in early October 2011. The much-anticipated timepiece finally met the world yesterday on the first day of BASELWORLD Watch and Jewellery Show in Basel, Switzerland, according to a report filed by the AFP.
The women's wristwatch is encrusted with 1,282 diamonds, which include six stones at more than three carats each. The white gold watch contains a total of more than 140 carats of diamonds. Seventeen jewelers toiled for 14 months in the making of the spectacular watch.
Bloomberg's piece also indicated that Hublot had hopes of selling the piece to a woman, as the watchmaker is making an effort to reach the new target market of women's watches. The piece also quoted Hublot's top exec, CEO Jean-Claude Biver, from an earlier interview regarding the market.
"Women are buying more than men, women are buying more often than men and women are very influential over men, so you have three good reasons to work on this population," said Biver, the CEO of the Swiss-based LVMH-owned luxury watchmaker.
For more information, visit Hublot.com.