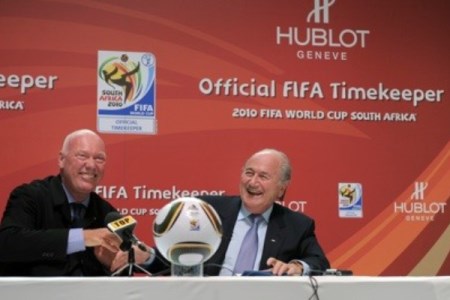 Hublot has signed the most important contract in its history, becoming FIFA's official watchmaker. It's a partnership that will be seen most visibly at the next two World Cups.
Joseph S. Blatter, FIFA President, said: "I am delighted that Hublot will be with us for the coming FIFA World CupsTM. I have a lot of respect for Hublot and their ability to innovate and to stand apart, driven by Jean- Claude Biver's own dynamism and passion! Hublot's image is a mark of Swiss quality and accuracy."
It builds on the watch brand's previous sporting collaborations, chiefly as the sponsor of the Swiss team in 2006 and as an official partner of Euro 2008.
Hublot's CEO, Jean-Claude Biver, "We already have an in-depth understanding of the footballing world, as Hublot was the first luxury brand to become involved in this field. It is a great honour and an immense pleasure to become the "Official Watchmaker" for the next two FIFA World CupsTM, and to be a part of the largest televised event in the world."
The brand will be seen on the referee's electronic boards when they show substitutions or stoppage time.
Hublot will also create a limited edition series for the 2014 FIFA World Cup in Brazil as well as special collections of watches linked to the FIFA World Cup from 2011 onwards.