Supermodel Gisele Bundchen hasn't officially announced she's expecting her second child with hubby Tom Brady, but she's definitely going to have a hard time denying it now. The bikini-clad bombshell was recently spotted in Costa Rica sporting a growing baby bump. With another bundle of joy on the way and a 32nd birthday last month (July 20), there is a lot to celebrate!
No stranger to showing off that incredible bod, the Victoria's Secret angel sure makes staying in shape look easy. During pregnancy No. 1 (with son Benjamin, now 2 years old), she was still wearing non-maternity clothes in her ninth month! Bundchen told Vogue in 2010, "I was mindful about what I ate, and I gained only 30 pounds. I did kung fu up until two weeks before Benjamin was born, and yoga three days a week."
Marisa Miller's Supermodel-Worthy Ab Workout
There's no doubt she'll be continuing her dedicated workouts during pregnancy No. 2, so we spoke with her kung fu instructor, Yao Li of the Boston Kung Fu Tai Chi Institute, to get the scoop on her routine.
9 Celebrities Who Got Fit Fighting
"Gisele is very focused and very disciplined. I am often surprised by how quickly she grasps the nuances of the movements. When I teach her new techniques, it often seems as though she already knows them," Li says. "She is very intuitive and knows what it takes to make the move look right."
Bundchen, who has worked with Li for the past four years, trains an average of three times per week for 90-minute sessions. The benefits of kung fu for a strong body, a clear mind, and a calm spirit—as well as learning self-defense—are truly inspiring.
See Gisele's kung-fu workout after the break!
"The stance work and kicking techniques improve muscle tone and flexibility in the lower body. Blocking drills and hand techniques do the same for the upper body, especially the shoulders and arms," Li told SHAPE. "Drills that combine hand and foot work require strength and agility in the core muscles, and help to increase coordination and balance."
The dynamic duo begin their workouts by stretching for 10 to 15 minutes, followed by individual kicks and sparring drills. Next, they practice forms (a set routine of choreographed techniques that can be either a hand form or weapon form such as the bow staff, spear, or straight sword). Lastly, they do additional upper-body strength training and abdominal work.
Clearly it's working for Gisele! "Learning kung fu is exciting and energizing… you've got to feel what it is and if you don't try it, you won't know!" Li says.
That's why we were stoked when the kung fu master shared a sample routine from his model client.
—————————————–
Gisele Bundchen's Kung Fu Workout
You'll need: An exercise mat and water bottle
How it works: Li has provided three sample kung fu moves: upward block, downward block, and straight kick. During the first 30 days, you'll be gradually increasing the number of reps and speed to improve strength and conditioning, as well as keeping each workout varied (see instructions below).
All images courtesy of Tony DeLuz, Illustrator
Upward Block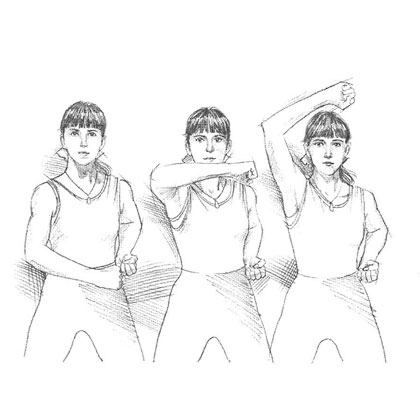 1.    Hand in fist position. Elbow bent at 90-degree angle.
2.    Bring forearm across body at waist.
3.    Raise your arm straight up in front of you.
4.    Stop just above forehead, keeping wrist and forearm turned outward for maximum resistance.
5.    Return in same motion to ready position.
6.    From ready position alternate left block/right block, always returning fist to ready position.
Goals:
Days 1-10: Alternate 20 blocks slow speed.
Days 11-20: Alternate 30 blocks medium speed.
Days 21-30: Alternate 40 blocks fast speed.
Downward Block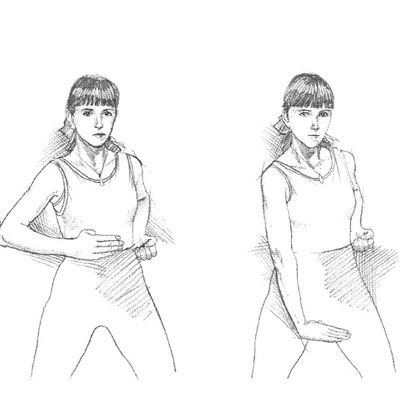 1.    From a horse stance, ready position.
2.    Turn hand into open palm positions, fingers together, thumbs in.
3.    Push down, centering your block to the midline of your body, wrist is flexed.
4.    At the point of impact focus your power to the outside heel of your hand.
5.    Return to ready position.
6.    Alternate left block/right block, always returning to ready position.
Goals:
Days 1-10: Alternate 20 blocks slow speed.
Days 11-20: Alternate 30 blocks medium speed.
Days 21-30: Alternate 40 blocks fast speed.
Straight Kick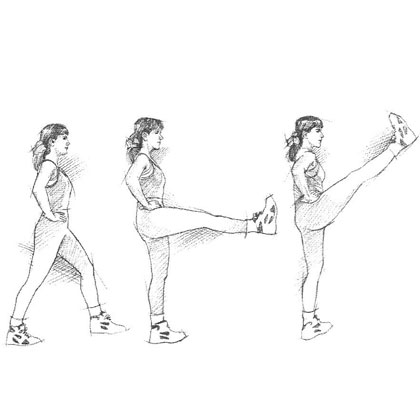 1.    Start from a bow stance position, hands on waist.
2.    Shift your weight forward to the front foot as the back foot leaves the ground.
3.    Power the kick by using the kicking leg's hip flexors and quads. The standing leg helps by pushing up from the ground.
4.    Leg stays straight, foot flexed through full range of motion. Standing knee soft, not locked.
5.    Increase speed of kick return by using calf muscles and hamstrings to pull your leg down.
6.    End back in full bow stance position between each kick.
7.    Be sure to inhale on your way up, exhale on your way down.
Goals:
Days 1-10: Kick waist high 20 times each leg.
Days 11-20: Kick waist high 30 times each leg.
Days 21-30: Kick waist high 40 times each leg.
—————————————–
After 30 days, vary your workouts and gain more conditioning benefits by aiming your straight kick three different ways:
1.    To the same shoulder as the kicking leg.
2.    To the midline of your body.
3.    To the opposite shoulder.
For more info on Yao Li along with additional techniques and benefits of Kung Fu, Tai Chi, and San Shou, visit his website.
To get the latest health, fitness, beauty, and fashion news follow @Shape_Magazine on Twitter or become a fan on Facebook.
(Source: Getty)