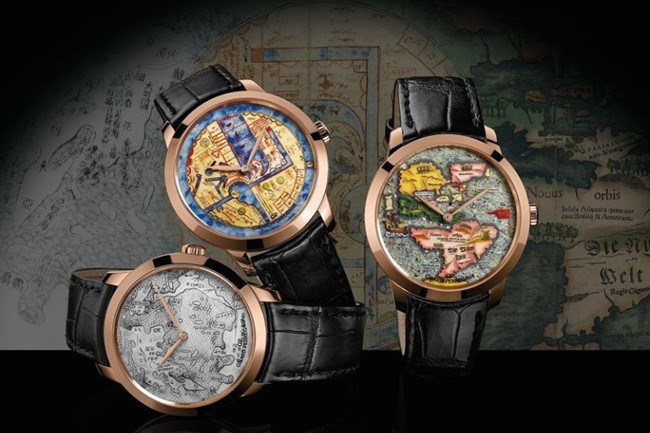 Long before the invention of smart devices, a man's constant companion, over mountains and seas, was his wristwatch. So as a tribute to the original wanderers, Girard-Perregaux has released a trio of watches for those who still hold adventure in their hearts. Housed in classic 1966 cases in pink gold, the Chamber of Wonders pieces boast mastery in art and craft through the painstakingly rendered centuries-old maps on their dials.
The Terrestrial Map (left) was inspired by one drawn by Jesuit priest Matteo Ricci for the Ming dynasty's Wanli Emperor. Appropriately, white jade was selected for this miniature canvas, and Indian ink was used to add the details. The Pearl of Wonders (middle) features a 15th-century map by Arab historian Ibn Al-Wardi, depicting a stylised atlas of the world with the Arabian peninsula at its centre and realised in sodalite stone. Pieces of papyrus are layered over the speckled stone and painted. Finally, The New World "Novus Orbis" (right) gets its rich colors from various semi-precious stones such as aventurine, calcite and nephrite to re-create a map drawn by 16th-century cartographer Sebastian Munster. Each model uses the self-winding 3300 calibre and is limited to 18 pieces.
Watch the teaser video below.