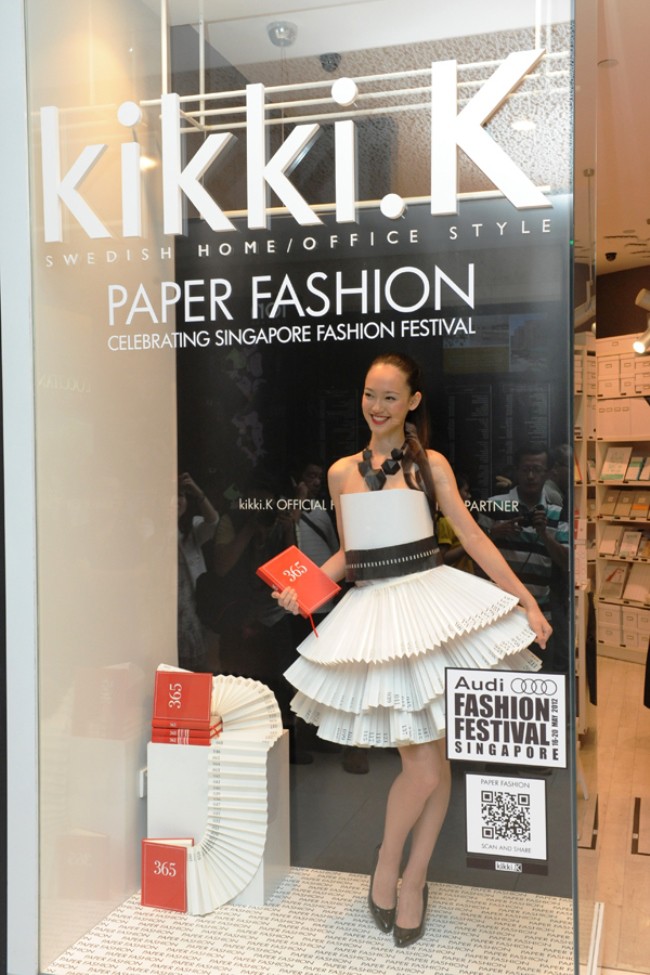 We were at the kikki.K store at ION Orchard yesterday afternoon where we spoke to the 16 year old winner of last year's Elite Model Look and the face of Audi Fashion Festival 2012, Fiona Fussi. Fiona was dolled up in a paper dress unveiled yesterday by the Swedish fashion stationery brand, kikki.K, the Official Fashion Stationery Partner for the festival. She posed in the window display while people were snapping photos of her while walking past the store.
The paper dress was designed by Australian Design Studio team, Trial and Error. It was created to celebrate kikki.K's 10th year anniversary. Illustrating the mantra that stationery is a fashion accessory for all seasons, the dress is constructed with hundreds of pages from the kikki.K 365 Days Journal and white paper. It even has accessories such as a belt and neckless made from the kikki.K Black Cube Notepad.
The dress will be on display at the kikki.K ION Orchard boutique at Unit 44-46, B2 ION Orchard, during Audi Fashion Festival from 16 to 20 May 2012.
kikki.K has also created a limited edition set of Fashion Quote Cards which offer fashion inspiration for your home or workspace. These cards feature quotes from Coco Chanel, Vivienne Westwood and Bill Blass, presented in hand drawn typography on cards in a gorgeous Kraft box and retails at S$12.90 each.