Facebook founder/ Billionaire, Mark Zuckerberg had an important status update on Saturday evening, 19 May 2012: Married.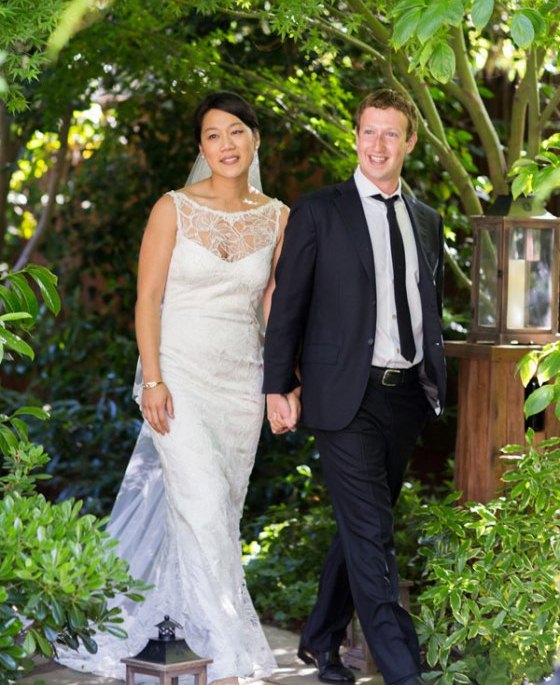 (Facebook/AP Photo)
Mark: "Why can't I just buy an island of the Bahamas and run Facebook remotely from it? WHY?" Priscilla: "Shaddup and try to look romantic."
5 Thoughts Looking at the Photo
1. Facebook founder Mark Zuckerberg is worth US$20 billion, and he got married in his US$4million home in Palo, Alto, California, but that expression says,"My balls are strapped to this monster behind me. I'm speaking in code, dude look at my blinking eyes! Send help!"
2. Priscilla Chan, 27-year-old, has bigger arms than Mark Zuckerberg's. That means she can 'Muay Thai' him into submission.
3. They look super awkward. Their body language says, "Hey honey! Look at all these poor people taking photos of us! Why do they SHARE living in buildings? What is the world coming to??"
4. Her dress was missing the hand-sewn words in bold, "I'm Rich, Bitches!"
5. That suit was from Walmart. And that wedding dress is from Macy's.  #StyleFailRichPeople
(Photo courtesy of Facebook)
——————————————-
FUN FACTS
Facebook site, which was born in a dorm room eight years ago, has grown into a worldwide network of almost a billion people.
Zuckerberg founded Facebook at Harvard in 2004.
He was selected as Time's Person of the Year in 2010, at age 26.
Zuckerberg grew up in Dobbs Ferry, N.Y.