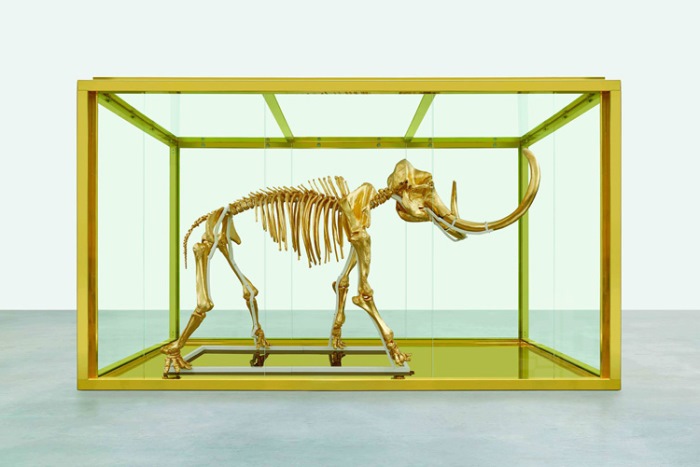 While the genus of mammoths has been extinct since the last Ice Age, British artist Damien Hirst has immortalized the woolly mammoth with a three-metre tall sculpture. The artist has created a gilded woolly mammoth skeleton entitled 'Gone but Not forgotten' encased in a gold tank to be auctioned off at the annual amfAR Cinema Against AIDS gala in Cap d'Antibes, southern France, on Thursday, May 22, 2014.
Damien Hirst donated the artwork to aid amfAR's endeavor to end the global AIDS epidemic. The auction is one of the highlights of Cinema Against Aids to be held at the Hotel du Cap-Eden-Roc. Cinema Against AIDS is a world-renowned charitable fundraiser held each year since 1993 during the Cannes Film Festival, attracting support from global stars such as Sharon Stone, Heidi Klum and Aishwarya Rai.
Hirst explained his artwork as: "The mammoth comes from a time and place that we cannot ever fully understand. Despite its scientific reality, it has attained an almost mythical status and I wanted to play with these ideas of legend, history and science by gilding the skeleton and placing it within a monolithic gold tank. It's such an absolute expression of mortality, but I've decorated it to the point where it's become something else, I've pitched everything I can against death to create something more hopeful, it is Gone but not Forgotten."
The sculpture forms part of Hirst's 'Natural History' series, which he began in the early 1990s, with work including the shark in formaldehyde, 'The Physical Impossibility of Death in the Mind of Someone Living' (1991), and the bisected cow and calf, 'Mother and Child (Divided)' (1993).