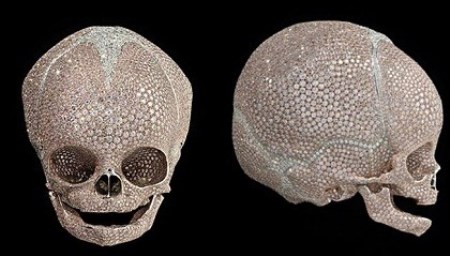 A genuine, infant skull smothered in diamonds by iconic British artist Damien Hirst is to be exhibited in Hong Kong at the end of the month.
Titled, 'For Heaven's Sake', the skull in question is that of a newborn less than two weeks old and formed part of a 19th-century pathology collection acquired by Hirst a few years ago. The skull is cast in platinum and studded with pink and white diamonds.
Several parenting groups have voiced their anger at the piece of art, arguing it is offensive to those who have lost a child.
More than 8,000 diamonds were set on the skull by royal jewellers Bentley & Skinner and the piece will go on show later this month at the Gagosian gallery's exhibition space in Hong Kong. Later in the year it will travel to London where it will also be displayed.
The controversial work follows in the footsteps of Hirst's first diamond studded skull, For the Love of God, which featured the skull of a 35-year old adorned with 8,600 diamonds. Sold in 2007 for £50 million (when it became the world's most expensive contemporary artwork) it was the largest diamond piece commissioned since the Crown Jewels.
So far no price has been revealed for the artist's latest exploration of death and beauty.
(Source: telegraph)