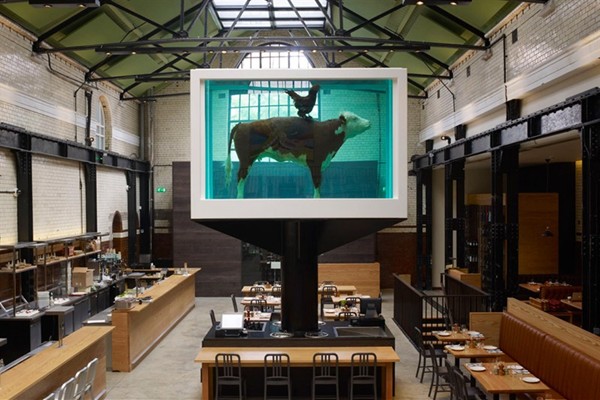 The enfant terrible of British art, Damien Hirst, has created another pickled delight to be placed as the centerpiece of a new London restaurant: and this time, it's a cock perched atop a cow. The installation piece, very succinctly titled "Cock and Bull", will loom over diners at Tramshed, which specializes in – who would have guessed – chicken and steak.
"Cock and Bull" is part of Hirst's ongoing and infamous Natural History collection, a series centered around preserved animals. In this case, a whole cow (a Hereford, for the record) has been preserved for posterity in formaldehyde, alongside a cockerel which sits on its back.
Hirst has also drawn a sister companion, an oil painting of the 1990s cartoon characters, "Cow and Chicken" (which you can see at right in the image above), which hangs on the dinery's mezzanine level.
In the basement, the restaurant also hosts a rotating art exhibit. Oh, as for the food, Tramshed will serve up hearty English meals revolving around the two meats, including roasted free-range chicken and sirloin steaks.
You'll get to enjoy your chicken and beef while contemplating Hirst's pointed depiction of the unprocessed, whole animals. Bon appetit!