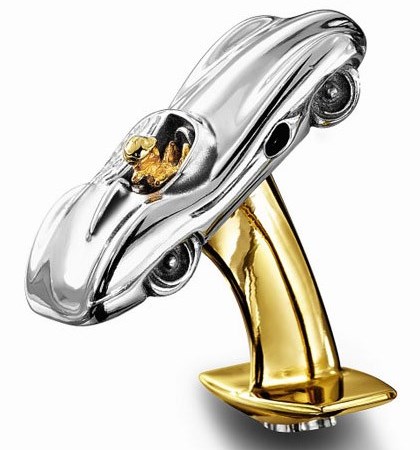 Here's a collectible that Aston Martin enthusiasts won't want to miss. London-based boutique company TMB Art Metal has produced two limited editions of just 50 pairs each of the Aston Martin DBR1/2 cufflinks. These cufflinks are designed in celebration of the 15th anniversary of Aston Martin's 1959 Le Mans victory in the iconic DBR1.
Hand crafted using the actual original ex-DBR1/2 aluminium with 18ct gold fittings for the cuff arms and the tiny drivers seated in cockpits, this exclusive accessory will be just as iconic as the races it depicts.
The DBR1/2 is the very car that won Carroll Shelby and Roy Salvadori their first joint Aston Martin victory at Le Mans in 1959. The car was also driven by the legendary Sir Stirling Moss when he picked up the Goodwood Tourist Trophies in 1958 and 1959.
The spectacular history is illustrated by these cufflinks in two different designs: squared-off wheel arches and open wheel arches. The designs will come with certificates of authenticity signed by Shelby and Sir Stirling Moss respectively.
The cufflinks come with matching high quality leather cases and retail at GBP 1,795 (or about USD 3,000).