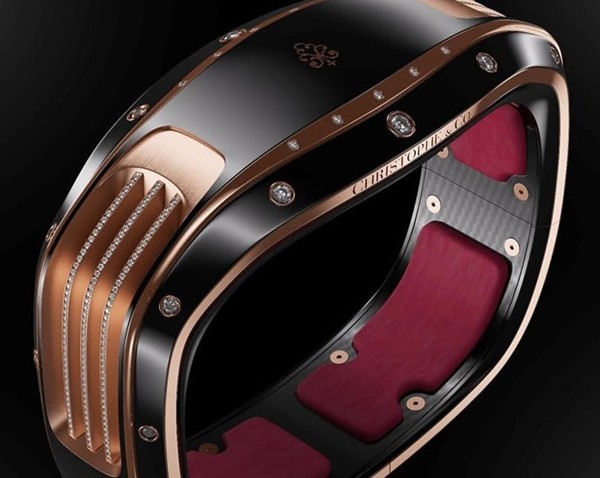 Wearable technology in luxury is typically limited to the world of watch and jewelry but new kid on the block Christophe & Co. is rising to the challenge with the Armill bracelet. We have mixed feeling about products like this, primarily because even big guns such as Google fear to thread here. This tells us that people have yet to decide if they want extra devices in their lives and you certainly need a base if you are going to go the Vertu way, to use just one example.
Another reason for our ambivalence is that British outfit Christophe & Co. looks like it is getting lots of press for its bracelet, designed by no less than Pininfarina, but the firm's website looks like a blast from the mid 2000s (we once had a login system, as some of you might recall). Giving Christophe & Co. the benefit of the doubt, the design of this carbon fiber wonder (that is the material of the frame of this device) speaks volumes for its desirability.
It reportedly also features other materials such as 18k gold, precious stones, Alcantara leather and ceramic, as well as NFC and Bluetooth connectivity (to sync with mobile phones). The user proposition sounds quite familiar though – access to a 24/7 concierge service and potentially access to private clubs although details are sketchy on this. Only time will tell if the Armill bracelet makes a good fit with lovers of luxury but if it strikes your fancy, Christophe & Co. is taking orders on its website.
For a few other references, try the following websites, Luxury Launches and A Blog to Watch, both of which were used to put together the article above.