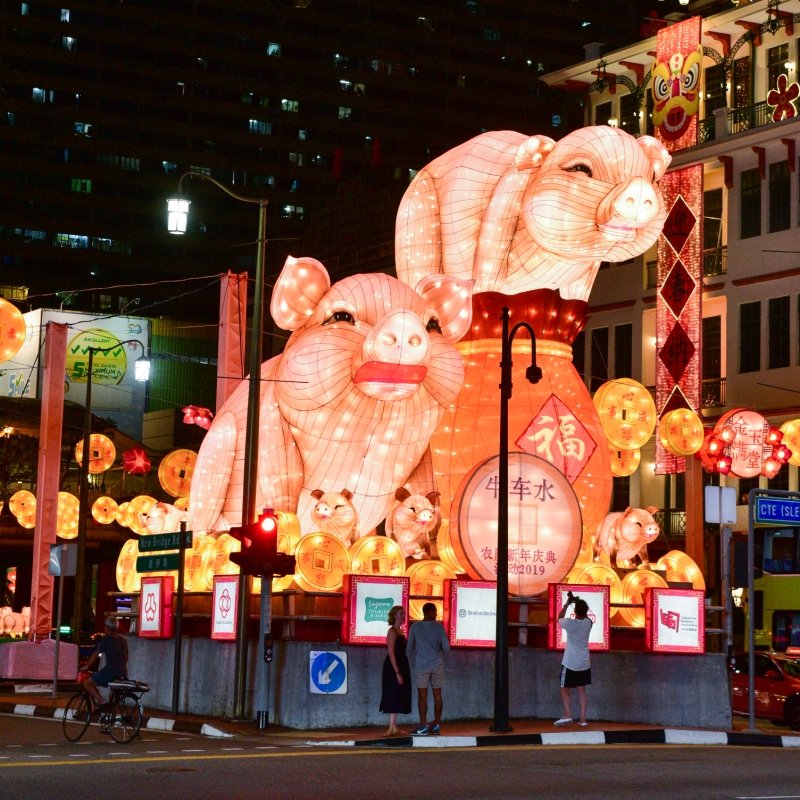 To ring in the Year of the Pig, Kreta Ayer – Kim Seng Citizens' Consultative Committee welcomes all Singaporeans and visitors to revel in the festivities at Chinatown. Themed "Celebration of Abundance and Prosperity" (新春大吉福满城 欣欣向荣庆丰年), this year's festival explodes with a line-up of crowd-pleasing activities for families and their loved ones to enjoy under a brilliant contemporary light-up, where tradition meets high-tech design.
Minister for Trade and Industry Mr. Chan Chun Sing was guest of honour at the Official Light-Up and Opening Ceremony (开幕典礼与亮灯仪式) event last evening, which featured items by local and overseas performing troupes, as well as a spectacular firecrackers and fireworks display.
This year's light-up, which will be held until March 6, boasts a spectacular pig-themed showcase with a towering 12m sculpture of a family of pigs atop a bulging purse overflowing with gold coins. Pictured above.
Dr Lily Neo (梁莉莉医生), Adviser to Jalan Besar GRC GRO (Kreta Ayer – Kim Seng) (惹兰勿刹集选区基层 组织顾问(牛车水-金声)) said, "Chinese New Year celebrations in Chinatown is one of the landmark events in the Singapore calendar each year. The Street Light-Up and the many popular street stalls and attractions bring plenty of festive cheer for families and the community at large to convene and celebrate the new year together. We hope this year's line-up of events will attract an even larger crowd to Chinatown and help promote the spirit of happiness and harmony in our rich tradition."
Ms Serene Tan, Director, Arts and Cultural Precincts, Singapore Tourism Board, said, "The Chinatown Chinese New Year Celebrations showcase the rich multicultural heritage of Singapore, and bring the community together to partake in the festivities. Through the Street Light-Up and programmes, we hope locals and overseas visitors will be able to better appreciate Chinatown's heritage and beauty."
The Chinatown Chinese New Year Celebrations 2019 is organised by the Kreta Ayer-Kim Seng Citizens' Consultative Committee, and supported by the Singapore Tourism Board.