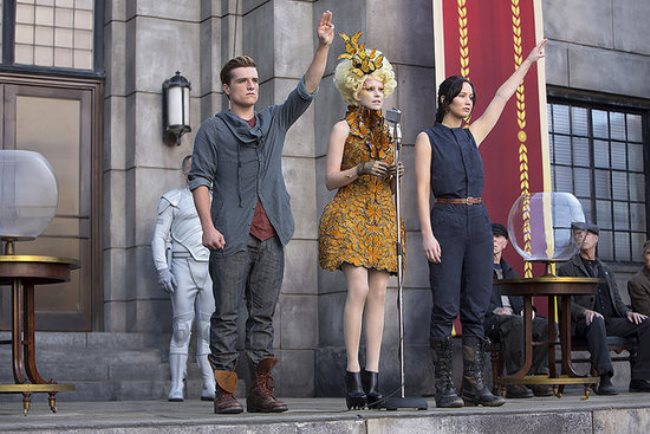 No need to keep watching that Catching Fire teaser on repeat! Prompted by its debut at Comic-Con, Lionsgate has released the first full-length trailer for The Hunger Games: Catching Fire, and guess what? It's awesome. If you've read the books, this one's going to get you really excited, because we get a lot more of the plot here.
Let me fill you in: Katniss (Jennifer Lawrence) has returned from her horrific win in the previous year's Hunger Games, and the district are gearing up for the 75th Annual Hunger Games, aka The Quarter Quell. Sensing an uprising, President Snow (Donald Sutherland) announces this year's competitors will be selected from all the winners of years past — including Katniss.
But that's not all: Katniss and Gale (Liam Hemsworth) make out! Philip Seymour Hoffman shows up as Plutarch Heavensbee! Stanley Tucci's teeth are incredibly white! But the most exciting part of all is that we get to see the training camp, where Katniss and Peeta (Josh Hutcherson) meet their fierce fellow competitors.
Catching Fire hits cinemas on Nov. 21, and you can (and should) watch the trailer after the jump.
(Source: Lionsgate)