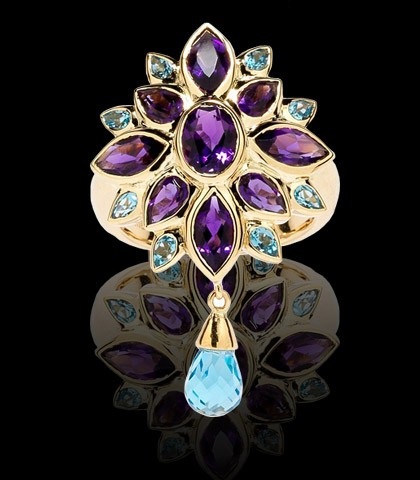 Masked in an intangible air of mystery, Carri Vacik's latest collection of fine jewellery speaks volumes of an exotic origin and opulence of yore.
Carri Vacik's collection of one-off pieces is flushed with sparkling jewels galore, from orange yellow sapphires, purple amethyst to turquoise amazonite. Inspired by her travels and heritage in the Far East, each piece seems to tell the tales of yore with the iridescent jewels set in 18k gold and reminiscent of the hedonistic opulence of days long past.
With names like Gardens of Babylon (1st picture) and Courtesan (2nd picture), her cocktail rings make impressions as striking as their names imply. Crowned in checker-cut ruby and doused in amethyst briolettes, the sparkles from even the most simply dressed drop earrings in the collection will be enough to make its wearer the centre of attention at any event.
Vacik says of her designs: "When I am creating each piece I imagine a particular type of woman who would wear it. Maybe a beautiful and regal woman from the East, a mysterious woman who could feature in a Klimt painting or a stunning Hollywood actress from the Golden Age."