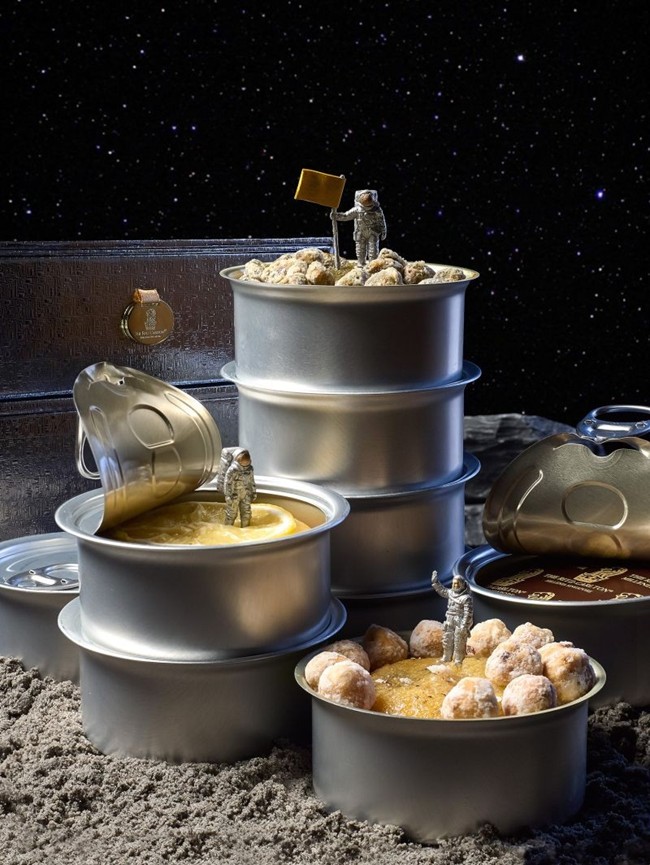 Executive Chef Massimo Pasquarelli and Executive Pastry Chef Terence Pang at The Ritz-Carlton, Millenia Singapore have crafted a space age twist on the traditional baked and snowskin mooncakes widely enjoyed during the Mid-Autumn Festival. Called "CAKE ON THE MOON", this limited edition box set is comprised of four palatable flavors including chocolate, hazelnut, lemon and pistachio. Each cake is accented with a crisp biscuit base and a flavoured filling at its core.
Ingeniously presented in sealed silver tins to simulate space food packaging, the "CAKE ON THE MOON" set comes in a contemporary silver box with double drawers. The cakes can be served warm or chilled, and travel impeccably well, making them great gifts for family or friends during this season of reunion. Alluding to the year 1969 when Neil Armstrong became the first man to walk on the moon, The Ritz-Carlton, Millenia Singapore's "CAKE ON THE MOON" is available at S$69 per box set of four.
"CAKE ON THE MOON" is available for purchase at the mooncake retail kiosk, located in the hotel lobby from now through 27 September 2015, 11 a.m. to 9 p.m. daily. A limited number of box sets are available on a first-come-first-serve basis, and only while stocks last. Price listed is subject to prevailing government taxes.