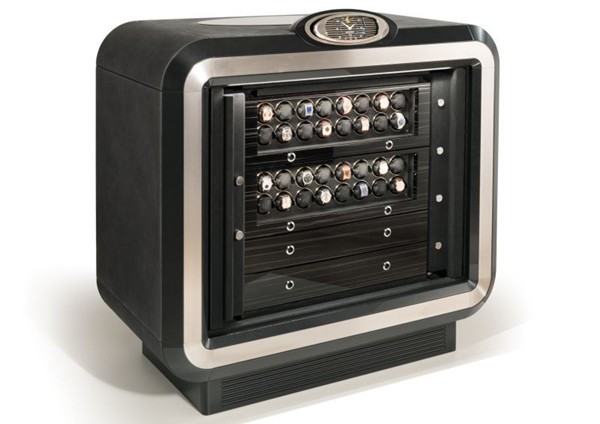 Buben & Zörweg's Magnum safe provides dignified elegance while providing top-notch security for valuable collections of watches and other precious items. The Magnum is a culmination of Buben&Zorweg's stylish design, passionate pursuit of innovation and master craftsmanship. Not only does the appearance of the safe radiate a sense of security, it also looks like an object of design…unlike the classic safes that we are accustomed to seeing in the movies.
The Magnum's doors don't open outdoors like regular, run-of-the-mill safes. Instead, once opened, the doors disappear inside the safe allowing the owner to decoratively present his valuable treasures. The ingenuity that went into the Magnum, don't just end with its doors. In fact, the interior is extendible allowing the owner to present his/her watch collection strapped to TIME MOVER units that are highlighted by sophisticated LED lighting.
The safe boasts a lock with 100 percent redundancy and the best in German security technology that easily meets the stringent demands of the VDS I certificate.