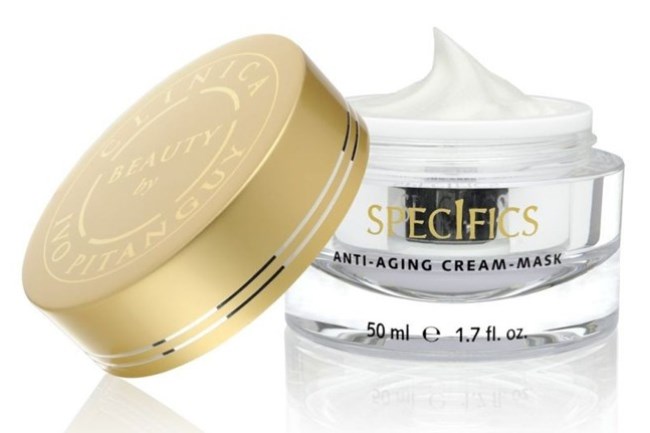 Professor Ivo Pitanguy, known to many as the "father of cosmetic surgery", founded the Clinica Ivo Pitanguy in Rio de Janeiro in 1963. Since then it has garnered a reputation for being a prestigious and renowned institution, a temple of talent, innovation and scientific knowledge throughout the world of plastic surgery. Inspired by his work, Beauty by Clinica Ivo Pitanguy unites technology with science, ethics and luxury. It blends natural active ingredients with aromatherapy to perfume its formulas. Beauty by Clinica Ivo Pitanguy has now added a Cream-Mask to its Specifics line – its first specialised skincare line for traumatized skin.
Specifics Anti-Aging Cream-Mask works as rapidly and intensely as a mask and as long and deeply as a cream – 7 minutes as a mask and 7 hours as a cream. Silk Tree and Papamiel Floral nectar work to energize and tone the skin by reinforcing the skin's toxin elimination mechanisms against glycotoxins. This energizing action also helps to maintain optimal energy production thanks to essential nutrients like vitamins, minerals, amino acids, carbohydrates and lipids.
The Cream-Mask also features a filling action. Vectorized Hyaluronic Acids restore volume to the skin and fills in wrinkles. Finally the treatment is complete with Specific's skin repair action. A combination of rare sugars repairs the epidermis and improves cell cohesion by stimulating the synthesis of filaggrins while optimizing hydration by stimulating the synthesis of aquaporins. Vitamin E and a gold repair complex also improve skin elasticity and reduce wrinkle depth – powerful peptides attached to pure gold particles stimulate the synthesis of collagen and increase skin density.
All the Specifics line is available in HK at:
The Oriental Spa, The Landmark Mandarin Oriental
JOYCE BEAUTY at Lane Crawford, IFC mall
JOYCE BEAUTY at Lane Crawford, Times Square
JOYCE BEAUTY at Gateway Arcade, Harbour City