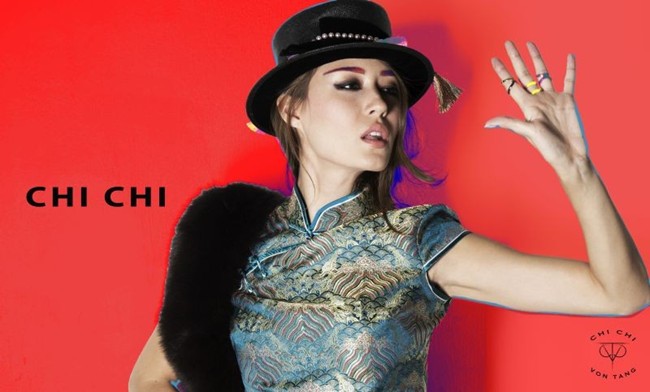 Singapore's newest fashion label, Chi Chi Von Tang, is set to take the fashion world by storm. It will launch exclusively at the Amber Lounge Singapore 2015 Fashion Show during the Singapore Grand Prix this September. The contemporary brand melds a quintessentially Asian aesthetic with a modern Western edge. Chi Chi Von Tang is designed and created by supermodel Lisa Crosswhite, the Founder/CEO of Gnossem.
The inaugural Chi Chi von Tang SS16 collection will launch on September 19 on the glittering opening night of Amber Lounge Singapore. International models will strut their stuff in stunning Chi Chi pieces in front of a star-studded crowd of A-list celebrities, F1 fraternity, and the Singaporean social elite, and will also be adorned in exquisite diamond jewelry by World of Diamonds. Unique to Amber Lounge, the models will also be accompanied by hunky Formula 1 drivers wearing breathtaking suits by Ted Baker from its AW15 collection.
"Our own Singaporean label influenced by badass Chinese empresses and modern day working women with a touch of hipster." said Lisa Crosswhite, Designer. "Chi Chi marries my eclectic style, my Chinese design heritage, and my love for statement pieces that can be worn every day. We've already received interest from international buyers."
Over the star-studded weekend, of September 19 and 20, Amber Lounge Singapore will yet again enthral two nights of full-throttled action-packed fun. The weekend will be composed of haute couture fashion, energizing LIVE performances by Apl.de.ap of the recently reunited hip-hop super group The Black Eyed Peas, as well as explosive music sets by International DJ's from Monte Carlo, Ibiza and the USA.