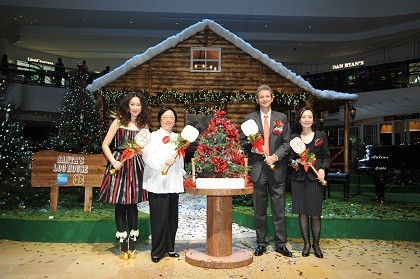 On November 30 a host of Christmas tree lights were switched on at Pacific Place, Hong Kong. For this year Pacific Place has adopted the theme "True Christmas‧True Emotions" while the 100 trees have been shipped to the mall from the private estate of HRH Price Joachim in Denmark.
Over the festive period customers can buy Pacific Place Links of London limited-edition Christmas Tree Charms (above) and can also have their photos taken with a group of dancing Christmas fairies. Pacific Place will donate all the proceeds from the photo sessions to UNICEF.
Guest celebrity Ivana Wong lit up the trees with the touch of a wand, appearing alongside Elizabeth Kok, General Manager, Retail of Swire Properties; Christopher Heywood, Senior Portfolio Manager of Swire Properties; and Susanna Lee, Vice President & General Manager, Global Merchant Services of East Asia, American Express International.
Wong said: "As I know that "True Christmas‧True Emotions" is the theme of Pacific Place Christmas campaign this year, I have decorated the real Christmas tree of life with layers of gorgeous decoration. The beautiful tree has a natural pine aroma and I hope to share the festive blessings with all Pacific Place shoppers."
To mark the occasion she also sang I'll be home for Christmas.