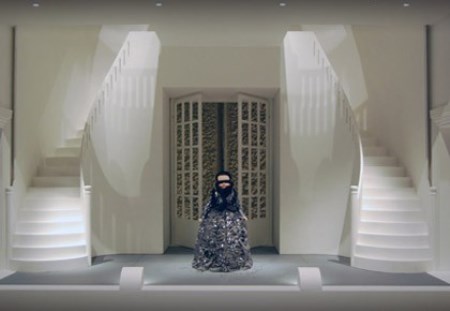 The past 15 years of work Viktor & Rolf is now on display at the Barbican Art Gallery in London as part of an exhibition showcasing the Dutch fashion designers' signature pieces from 1992 to the present day.
This retrospective exhibition, entitled the House of Viktor & Rolf, will display the outfits on life-sized porcelain dolls in a specially commissioned theatrical installation.
Highlights include pieces from the Atomic Bomb, Russian Doll and Bells collections. Also included in the exhibition will be a six-meter tall dollhouse designed by Siebe Tettero, filled with 54 miniature dolls clad in outfits displayed on their life-sized counterparts in the gallery.
At the exhibition, a special book documenting the work of the Dutch duo to date, as well as a specially commissioned silk scarf and limited edition perfumes will be available for sale. The House of Viktor & Rolf will be on display until 21 September.
(Source: Dezeen)