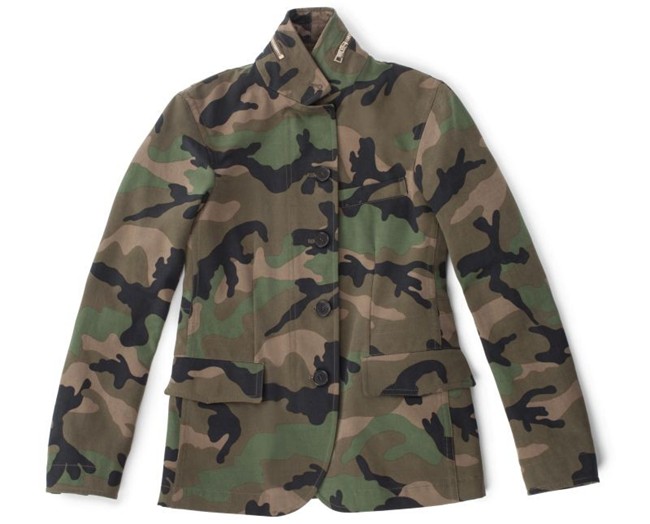 Valentino has announced that for the third year in a row the Maison will be supporting the fundraising event "Cash & Rocket Tour" as one of its main sponsors. To further support the initiative, Valentino will donate 20 percent of proceeds from the sale of a special capsule collection especially designed by Maria Grazia Chiuri and Pierpaolo Piccioli. The collection includes unique pieces, iconic ready to wear and accessories – T-shirts, jumpsuits, sneakers, driving leather gloves and bags, all in the iconic Camouflage pattern and black color personalized with a studded heart that symbolizes love for Cash & Rocket.
These special items will be available online at www.valentino.com, www.stylebop.com and Valentino boutiques in London, Paris, Cannes, Milan and Copenhagen starting from May 14, day of the official kickoff of the Tour. In addition to the exclusive capsule collection, Maria Grazia Chiuri and Pierpaolo Piccioli have partnered with Aston Martin, to create a special edition of a completely customized Vanquish car model. The car features the Valentino Camouflage pattern and is further embellished by the Maison's iconic studs. The car was auctioned during the opening Gala Dinner on May 14 in London and all proceeds will be entirely donated to the charities involved.
Valentino Creative Directors, Maria Grazia Chiuri and Pierpaolo Piccioli actively participated in the fourth edition that started May 14 in London and ended in Cannes on May 19.
Cash & Rocket is a fundraising event that supports the activities of three humanitarian organizations, Shine on Sierra Leone, OAfrica and Sumbandila, which help African children and their families with healthcare and education in Sierra Leone, Ghana and South Africa. Seventy-eight women, coming from the worlds of fashion, music, cinema and business will begin the approximately 2km car tour from London passing by Paris, Lyon, Milan and ending in Cannes, which will be hosting the renowned Film Festival.