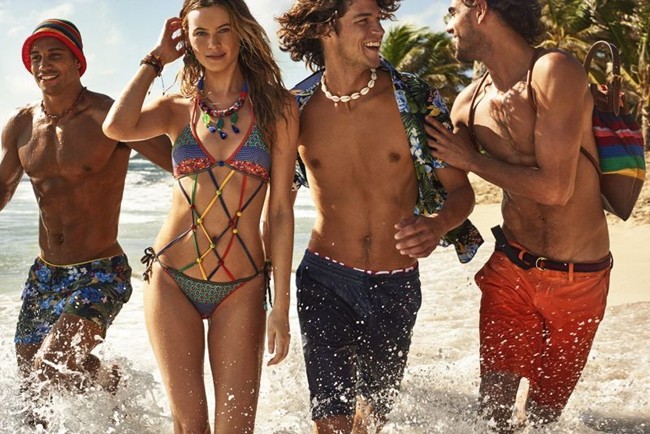 It's like the movie Cast Away, a dramatic depiction of Chuck Noland (played by actor Tom Hanks), who finds himself stranded on an uninhibited island after a catastrophic plane crash in the South Pacific. Except this time, nobody's stranded. And if they were, they'd be loving this exclusive getaway on private island Mustique, part of St Vincent and the Grenadines.
Blue ocean stretches across white beaches, combining laidback island cool with a touch of sweet sophistication – a nostalgic homage to its iconic holiday style. This season, Island casual meets sporty cool in a sophisticated twist featuring Nautical red, white and blue in native flora. Spell sophistication with laid-back ease; think crocheted knits, candy-striped dresses, embroidered seersucker shirts, classic blazers and button-downs, layered over wild floral polos.
In this sun-kissed paradise, Supermodel Behati Prinsloo, who returns for the third consecutive season as the brand ambassador, joins her crew of handsome castaways: Miles McMillan, Marlon Teixeira, Nathan Owens, Jordan Barrett, and Darius Trabalza Haynes, in hot pursuit of the good life. Feeling the breeze or frolicking in clear waters, the face of Tommy Hilfiger plays a modern-day explorer, making her own stories and leading her pack in fast adventures.
"Our Spring '16 campaign is inspired by the eternal island vacation," said Tommy Hilfiger. "My family and I have always loved the Caribbean, and Mustique in particular is our favorite place to spend time together. This season, we channel this 'island life' inspiration into our colorful, cool campaign with an eclectic twist. We mix nautical and tropical influences with sun-washed palettes and athletic accents; it's all about a relaxed beach holiday with a glamorous touch."