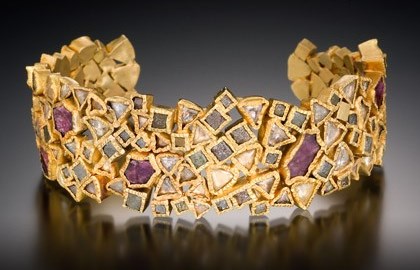 Raw, uncut diamonds meet precious art in the hands of unconventional and edgy jewellery designer Todd Reed. His creations both challenge and defy the traditional notions of what constitutes perfection in a diamond.
In fact, Reed, who started experimenting with these uncut gems in 1992, has not only cut himself a niche in the jewellery industry, but is also widely considered to be at the forefront of what he calls the "raw elegance" movement.
Reed says of his work with raw diamonds: "When I started this the rough crystals were regarded as a material with no value but since we treat them as precious art, the consumer has responded in kind."
And not only did consumers take to Reed's jewellery, the diamond industry at large sat up and took notice.
Today, Reed's raw diamonds are the subjects of books on goldsmithing and art jewellery, international trade and consumer publications. His award-winning pieces have also graced some of the finest galleries and museums around the world.
From wedding bands and necklaces to brooches, bracelets and earrings, Reed's jewels possess a sexy rawness that bites for the ones that dare to wear.