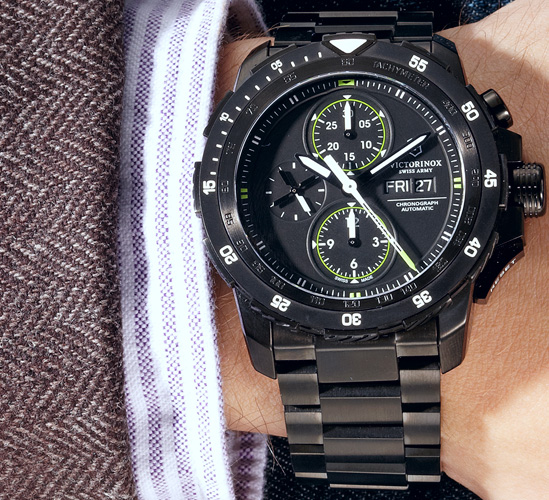 Your watch should complement, but never compete with, the rest of what you're wearing. If you wear a lot of color in your downtime, wear a simple watch; if you wear a lot of neutrals, opt for a watch with some color or character to it.
Avoid softer metals — we're looking at you, white gold — and stick with plastic, aluminum, or steel.
You need not use the tachymeter (i.e., the numbers along the inner ring of the bezel at left that let you compute speed based on travel time) to recognize its total awesomeness.
Water resistant, always.
Steel-and-PVD Alpnach mechanical chronograph ($2,395) by Victorinox Swiss Army; wool jacket ($625) by J. Hilburn; cotton shirt ($555) by Brunello Cucinelli.
WTFSG.com. Style Tip No. 663: Metal is more durable; leather more refined. Pick your strap and go with it.