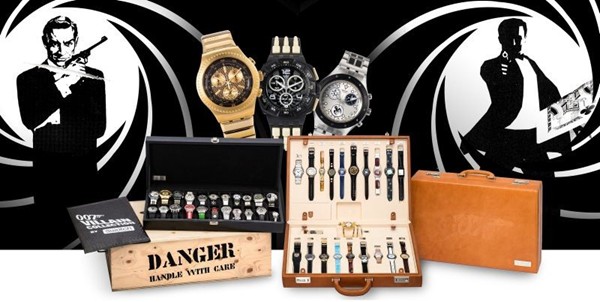 This Spring, Sotheby's Hong Kong is delighted to present Swatch & Art from the Dunkel Collection – one of the world's largest Swatch collections in private hands ever known (estimate upon request). Comprising more than 5,800 elements collected over 25 years by Paul Dunkel, a passionate European collector, this superlot encompasses exclusive prototypes, limited and special edition Swatch watches from 1983 to 2007, and collected artwork relating to Swatch designs.
Swatch & Art from the Dunkel Collection will lead the Important Watches Spring Sale taking place on April 7 at the Hong Kong Convention and Exhibition Centre.
"Collecting both the Swatch and the artworks is like having an intriguing marriage that works perfectly well, affording people the luxury of admiring art objects on their wrists. What I enjoy the most about Swatch is that everybody can relate to it: regardless of age, origin, colour, culture, job and taste, most of us have had a Swatch in our lives. Over the years I have built an encyclopaedic collection comprising nearly every model of Swatch produced in their first 25 years. I would like to thank Sotheby's for the opportunity to share them with the world and I am looking forward to passing the legacy on to the next owner." says Paul Dunkel.
Riding on the quartz revolution in the late 1970s, Swatch made its initial mark on the business in 1983, taking the world by storm by merging the durable quartz movement with a playful style and synthetic materials. In 1985, the watch was officially turned into an actual art piece with the launch of Swatch Art Special, a series of collaborations with world-famous or up-and-coming artists from a broad range of disciplines initiated by Nicolas Hayek, founder of the Swatch Group.
Names immortalised in Swatch Art Special collaborations range from artists such as Keith Haring, Mark Kostabi, Sam Francis, Mimmo Paladino, Mimmo Rotella – most of them featured at the Museum of Modern Art, Guggenheim Museum and Fondation Maeght – to world phenomena such as the Olympics Games, Switzerland's Montreux Jazz Festival, the FIFA World Cup and James Bond movies along with their infamous villains. Produced in limited and numbered editions, each Swatch Art Special commemorates a unique occasion, extraordinary event or person.