The first Zen perfume from Shiseido was launched in 1964 "ZEN – the essence of Japan",a luxurious and complex fragrance. The perfume was a sensual interpretation of the Japanese zeitgeist.
A mystical and unique fragrance, who invited on a sensual journey to the Far East. A modern and transparent version of Zen signed by Nathalie Lorson came out in 2000 in a white bottle, replaced by the new Zen edition from 2007 that comes in a rectangular yellow bottle. The masculine version Zen for Men was launched in 2009. The new ZEN SUN is a fresh variation of the traditional fragrance. It reflects the energy of the sun and smells fresh and bright ZEN SUN gives the feeling of the sun on your skin.
A floral-fruity fragrance for women and an aquatic-woody citrus fragrance for men provide a new Spring Awakening.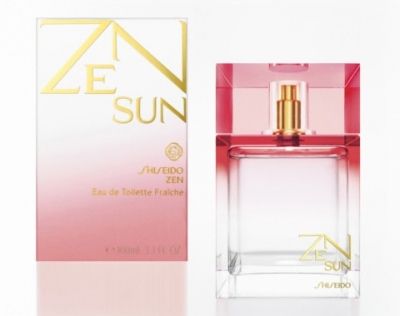 Zen Sun for her
The new limited edition in a 100ml bottle, inspired by the seductive ZEN Eau de Parfum. A floral-fruity fragrance. Bright, fresh and full of joy. The top notes are enchanted with a combination of fruity grapefruit and peach tones and vibrant Bergamot. Black currant, citrus and lime create a fresh start. A delicate fragrance of Mango seems to vibrate the air. The soft heart, which with the scent of gardenias, the Blue Rose, lotus flower and lily of the valley presents a floral diversity is enriched with the delicate touch of cherry blossoms. Raspberry, sandalwood and amber create a warm finish in the base .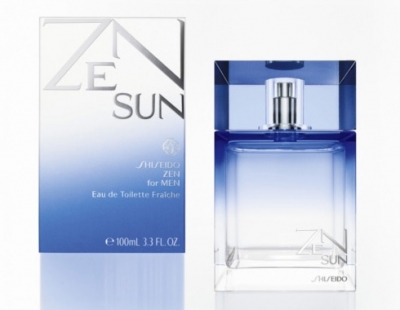 Zen Sun for him
For him, a new, limited edition in 100ml. The classic bottle in a straight-line variation. The mysterious blue combines all shades of light from transparent to intense. They reflect the adventures of a beginning day. An aquatic-woody citrus scent. Direct, fresh, absolutely masculine. On the basis of dry wood Shiseido has created an aquatic and fruity citrus fragrance. The clear top notes of bergamot and Nashi combines with a lively freshness of the citrusy yuzu fruit, with the icy sharpness of fresh mint – as the first rays of sun on a clear and crisp morning. The middle notes are confident with white pepper and violets . The base note, finally, is made of cedar and amber – a woody note which gives the skin feel soft delicate heat.
The fragrances are available as 100 ml Eau de Toilette.