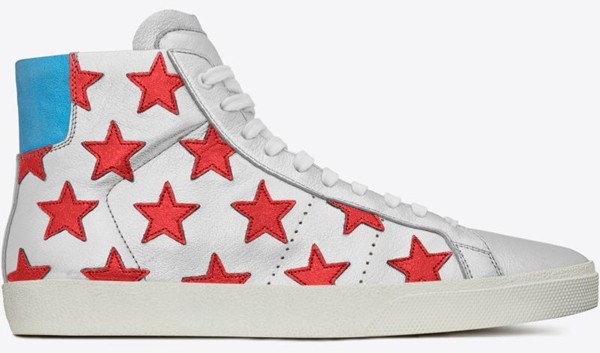 The California Sneakers by Saint Laurent were designed in Los Angeles in 2014 for the Psych Rock collection and based on the iconic sl/06 court classic dead-stock. The California Sneakers are an authentic transposition of the American flag and the Pop & Naif prints widely used by Mr. Saint Laurent.
Details and proportions wise, the sneakers feature either a white or silver colored base with colored appliqué leather stars. The California Sneakers can be worn by both men and women. The sneakers are manufactured in Spain and boast the highest levels of craftsmanship and technique.
The California Sneakers are offered either in low or mid tops. They are available with an additional set of white cotton laces inside an authentic cardboard 1 flap Saint Laurent box. The sneakers are available in a graphic black/silver/white color variation as well as metallized Americana silver/red/turquoise combination. The sneakers also feature an embossed Saint Laurent Paris signature on the back patch, the insole and the outsole.