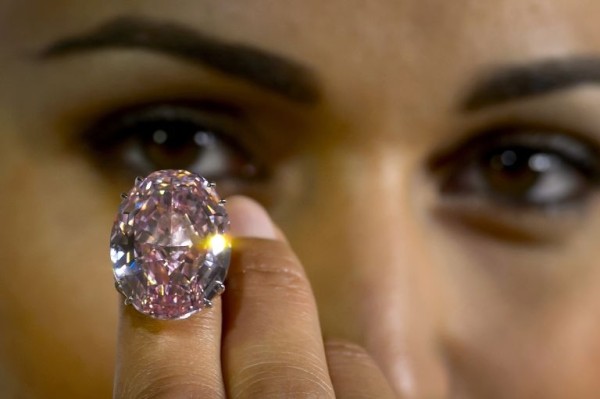 A plum-sized diamond known as the "Pink Star" was auctioned in Geneva Wednesday for $83 million, a world record for a gemstone. The diamond had been estimated at $60 million.
Three years ago, Sotheby's set an auction record of $46.2 million for a diamond when it sold the "Graff Pink" gemstone. The Sotheby's auction came a day after rival house Christie's sold an almond-shaped diamond dubbed "The Orange" for $35.5 million, also a record in its category.
The 59.60-carat "Pink Star" is the largest in its class ever graded by the Gemological Institute of America (GIA), with the second biggest less than half its size.
The sparkling oval-cut rock measures 2.69 by 2.06 centimetres (1.06 by 0.81 inches), and weighs 11.92 grammes (0.026 pounds).
In addition to its top colour and clarity ratings, it falls into a rare subgroup with the purest diamond crystals and extraordinary optical transparency, comprising less than two percent of all gem diamonds.
The "Pink Star" was 132.5 carats in the rough when it was mined by De Beers in Africa in 1999, according to Sotheby's, which has not said which country it came from.
It was cut and polished over two years by Steinmetz Diamonds, and unveiled to the public in 2003 under the title of the "Steinmetz Pink".
The near-translucent rock was renamed after it was first sold four years later for an undisclosed sum to an unidentified buyer. Sotheby's declined to name the seller in Wednesday's auction, nor would it say whether the gemstone had been bought and sold again since 2007.