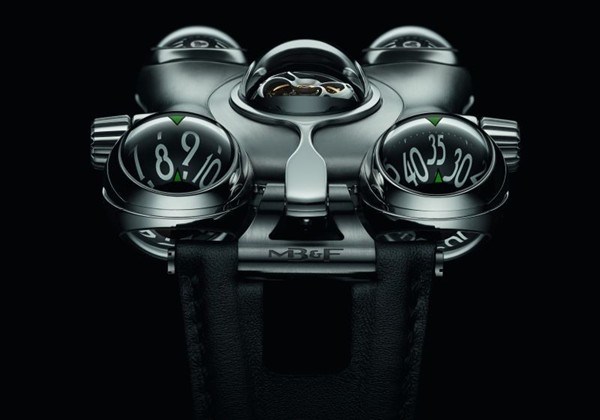 This seriously playful creation doesn't just tell time – it's a great flight of the imagination.
The MB&F Horological Machine N°6 (HM6) 'Space Pirate' has been designed to operate in the hostile environment of space – quite literally. Each of the four corners of HM6's biomorphic case features a 360° sphere, capped top and bottom by transparent sapphire crystal domes. Up forward, two semi-spherical indications rotate vertically (90° to the Engine), respectively displaying hours and minutes in large, highly legible numerals. Back aft, driven through multiplying gearing by the automatic winding rotor, twin spherical turbines spin horizontally, automatically regulating the winding system in case of excessive speed to reduce stress and wear.
The central dome houses a 60-second flying tourbillon, the precision regulator of HM6's Engine. The flying tourbillon is functional − the fact that it looks sensational is a bonus. There is no room at the top of the domed crystal for an upper support bridge and a flying tourbillon requires no upper bridge. The Space Pirate also has a retractable, semi-spherical, titanium protective shield. When closed, the cover blocks harmful rays from prematurely oxidising the Engine's lubrication oils. A crown at 9 o'clock opens and closes the cover in the blink of an eye.
The sapphire crystal display portal on the back reveals more of the 475 finely finished components making up the highly complex movement, which required over three years of development. Also visible through the display back is part of the winding mechanism and the high-grade platinum 950 winding battle-axe rotor. The strength of the timepiece's exoskeleton is formidable thanks to the aeronautic grade Ti-6Al-4V titanium case, a metal stable at over 400°C.
The MB&F Horological Machine N°6 'Space Pirate' is a limited edition of 50 pieces in Ti-6Al-4V titanium.
The HM6 'Space Pirate' retails exclusively at The Hour Glass.