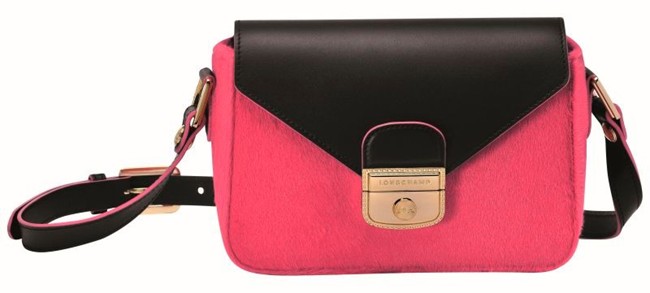 This fall, the new Longchamp Pliage Héritage comes in a mini size, all the better to accompany fashionistas when and wherever they go. The very strength of this bag lies in its ability to slip into the palm of the hand, without losing the slightest detail that gives it its force and personality. More than ever, in this Mini version created for the new urban nomads, the Pliage Héritage displays its uniquely distinctive graphic silhouette. Carried in the hand or worn across the body with its shoulder strap, it is the must-have it-bag, the accessory for any occasion, an evening essential.
Combining extreme refinement and sublime frivolity, this Mini Pliage Héritage offers a concentration of know-how and elegance. An incredibly sexy little handbag sewn with a thousand fashion details that has lost none of its big sister's personality. Le Pliage is not remade and unmade… rather the bags are reinvented with each new season to offer the best of Longchamp expressed in a rich and luxurious collection.
A little sedate perhaps, but incredibly elegant, the Classiques in their new Burgundy, Natural and Earth colors invite you to change your Mini every day. The bolder, extremely joyful Tricolore bags boast a daring selection of refined shades in Pebble, Navy blue or Ecru, set off on the gussets by a lively luminous Yellow, intense Coral or a delicately subtle Natural hue. The height of refinement, the flap and trimmings are crafted in Black to highlight this strikingly stylish version.
Finally the Pliage Héritage Luxe, offers the choice of equally beautiful and unusual materials. The stunning Malabar Pink, pairs pink-colored baby calfskin with black calf leather. The dramatic Midnight Gold, showcases a dark blue-colored lambskin fur teamed with golden metallic sheepskin. The charming Powder Pink, delicately combines a powder pink leather with calf fur and a crocodile print cowhide.
For a Mini, this Pliage Héritage offers a whole array of colors and materials: it may be small, but it is certainly not lacking in pride and style.