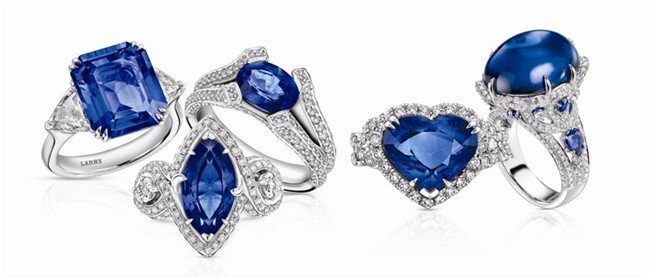 Wearing something blue on your wedding day has always been a lucky tradition that many women vehemently believe in. Old wives tale or not, Larry Jewelry's Blue Bridal Collection is the perfect opportunity to show off that special shade of sapphire on your lucky day.
Sapphire, a symbol of good fortune and longevity, is the star of the Blue Bridal Collection, and rings are available in a myriad of cuts – the timelessly elegant emerald, marquise or oval shapes, a truly romantic heart-shaped ring, or the sophisticated cabochon cut. Azure additions to the rings come in the forms of a glamorous necklace, bracelet and a pair of earrings; a stunning bridal or evening ensemble.
For those not crazy about cerulean, the collection also features exquisitely cut 18k rose-gold engagement rings, available in two styles. The first, in the ultimate symbol of true love, a rose-shaped rose-gold and diamond engagement ring. The second features rose-gold beads, which emphasize the diamond set in the middle.
Classic 18k white-gold rings are also available in the form of a wedding ring or an engagement band.