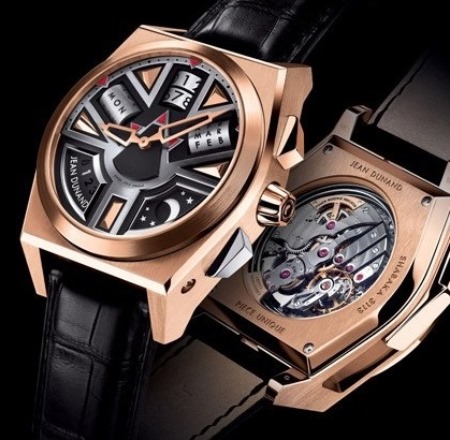 Challenging the outer limits of what is possible in watchmaking, Jean Dunand nevertheless does not directly challenge the idea of what a watch is because, according to Thierry Oulevay, president of the brand, neither he nor his partner Christophe Claret ever want to make anything that does not look or feel like a watch.
Within this limitation though, they are interested in creating the most stunning mechanical objects possible. The Shabaka, at a wearable 44mm X 17.65mm, demonstrates this while also showing how the brand keeps things functional.
The perpetual displays of day, date and month are all instantaneous – meaning they change immediately instead of slowly turning throughout the relevant cycle.
The Shabaka allows itself to be adjusted with the equivalent of +- pushers but also incorporates a safety mechanism that locks the pushers, preventing potential mishaps.
The repeater – hours, quarter-hours and minutes – is activated via a traditional lever but technical wizard Claret has found a way to make the watch resistant to 30 meters despite this.