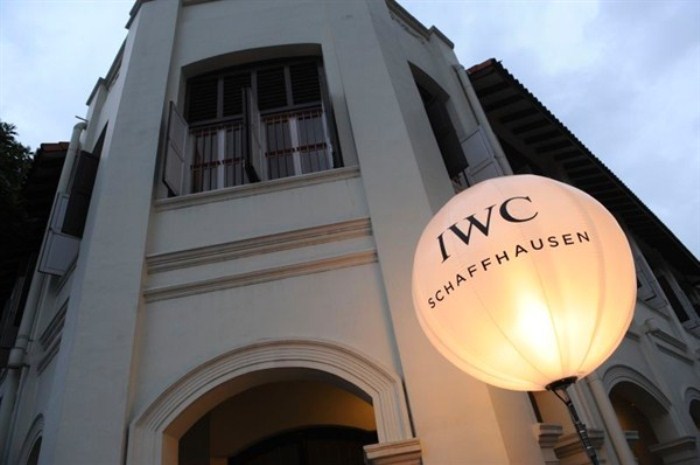 To mark the launch of its new Aquatimer collection, IWC Schaffhausen gathered over 150 guests at the beautiful 72:13 (art gallery) in Singapore. Titled "Inside the Wave", the exclusive evening boasted a unique setting that juxtaposed the world both above and below the ocean's surface. Basked in atmospheric light, coupled with beautiful wall projections of hammerhead sharks and jellyfishes, the venue was the perfect setting to celebrate IWC's new products. It also stylishly underscored the anniversary of the Charles Darwin Research Station, the scientific institution set up on the Galapagos Islands by the Charles Darwin Foundation.
The evening kicked off with a welcome speech by local personality and emcee Jimmy Taenaka, followed by a a product presentation of the new Aquatimer collection by Managing Director of IWC South East Asia, Edouard d'Arbaumont. The highlight of the evening however was a unique sand art performance by local renowned sand artist Stacey Lee. With her artistic usage of sand to recreate images of divers, sea creatures and an IWC Aquatimer watch, Stacey captivated the audience with her flawless performance. Throughout the evening, guests were pampered with sumptuous canapes that were created specially for the event.
"The Aquatimer collection dates back to 1967 and is a distinctively masculine, dynamic and professional sports watch line…With the new 2014 Aquatimer collection, we have a more discreet look with more subdued colours, encompassing a design that is more purist than the previous collection. The new collection is also now more functional and safer, emphasized by the new, innovative rotating bezel, which is the hallmark of the IWC Aquatimer watches." explained Edouard d'Arbaumont.
Local personality & Event emcee, Jimmy Taenaka