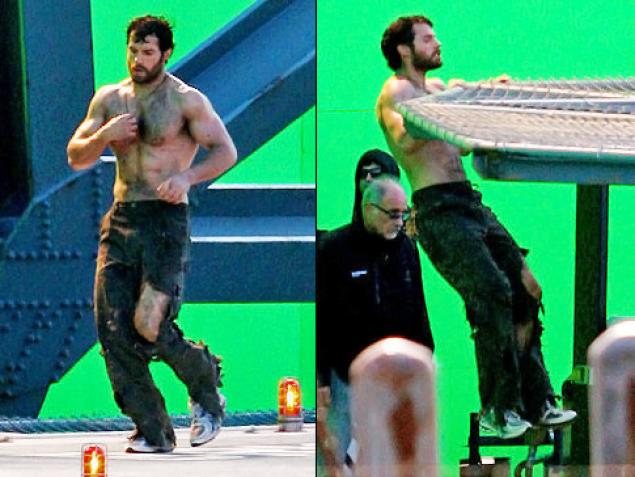 Photos: Kred/PacificCoastNews.com
Henry Cavill gave fans a sneak peek at his 'Superman' physique onset Tuesday.
More like Abs of Steel.
"Superman" star Henry Cavill showed off his rock-hard body on the set of "Man of Steel" in Vancouver on Tuesday while filming a scene in front of a green screen.
In between takes, the British actor — wearing only tattered pants — really upped the heat factor when he did pull-ups on a piece of equipment.
In order to get Superman's superhero physique, Cavill has been keeping a strict diet and exercise program.
"I'm on 5000 calories a day … You've got to eat protein first, then a little bit of carbs … you've got to keep your hunger levels going. I'm training two and a half hours a day, pushing my body beyond its normal limits, putting on a lot of muscle mass and just making myself look like Superman."
But even though he's shirtless in this one scene, Cavill will still be donning the iconic Superman costume.
"It's extremely cool," he said of the first time he tried it on. "There's no other feeling like it. They just put it on, I turned around and look in the mirror and you can't really play it cool – you sort of guffaw and laugh. I thought 'OK, holy hell, this is real, it's not a joke anymore. This is it … you're doing it, you're right in the middle of it.'"
"Man of Steel" also stars Amy Adams as Lois Lane and will be released in 2013.