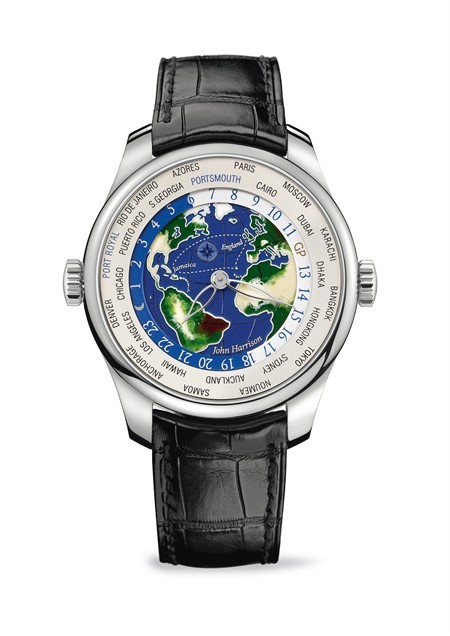 Navigational and watchmaking legends abound in Girard-Perregaux's latest creation. Conceived as a tribute to 18th century watchmaker John Harrison, the ww.tc John Harrison is the latest newcomer to GP's ww.tc (world wide time control) collection.
Internationally recognized for his H-4 watch (the world's first true marine chronometer, created in 1761), Harrison was a self-taught British watchmaker who devoted a good part of his life to developing a reliable timepiece in light of the 1707 Scilly Naval Disaster. Before Harrison's famous marine chronometer, determining longitude at sea was impossible, thus hindering world travel and commerce. His son William Harrison took the H-4 for a journey across the Atlantic Ocean in 1761.
The dial of the ww.tc John Harrison echoes the journey that William took, with the contours of the map engraved on an unprocessed plate of white gold. The liquid green and blue enamel is laid into the cavities by way of champlevé, while the 3 mm-compass rose is hand-sculpted by a craftsman-engraver. The finesse factor is upped by the delicate trail of silvered powder, which traces William's journey from Europe to America. To indicate the journey's starting and end points, Portsmouth and Port Royal are highlighted in royal blue on the cities ring.
As revealed by the transparent case-back, the ww.tc John Harrison boasts a Girard-Perregaux 033G0 automatic calibre that is widely recognised for the excellence and reliability of its construction. An ingenious coupling mechanism is fitted to activate the bicolored ring with indication of the time in 24 time zones, while the universal time can be instantly read off from the blue/white hours ring using the rhodium-plated leaf-shaped minute hand.
Available in a limited series of 50 individually numbered timepieces, the ww.tc John Harrison comes with a black alligator strap and folding clasp in white gold.
John Harrison