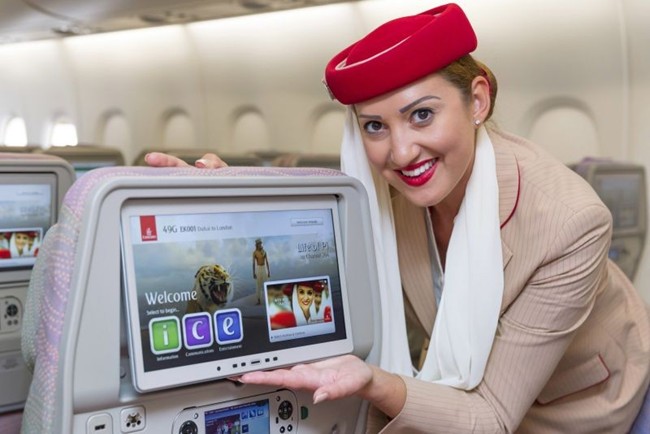 Emirates has introduced its new generation in-flight entertainment (IFE) system. The latest features include larger screens in First Class and Economy Class and three times the media storage – offering passengers an even greater choice of content on board. The new system has been integrated into Emirates' newly-delivered Boeing 777-300ER and Airbus A380 aircrafts. Passengers travelling in First Class will have a more immersive viewing experience to look forward to with IFE screens increased from 27 to 32 inches – the 40 percent increase makes it the largest screen on any aircraft.
Economy Class passengers can also look forward to immersing themselves in Emirates' selection of inflight programmes, with the industry's largest in-seat screens at 13.3 inches. These can also be found on Emirates' latest two-class configured A380. The Business Class screens, at 20 inches wide, remain one of the industry's largest for its class.
With three times the media storage on the new IFE system, the ice Digital Widescreen now has 2,186 channels of on-demand entertainment and 1,230 music channels which amounts to about 4,300 hours of entertainment. This includes over 50 full TV box sets and close to 600 movies. Reflecting Emirates' global and diverse customer base, the enhanced system also features a multilingual interface in 14 languages. Other new features include enhanced handset controllers, USB ports and PC power outlets on all seats across the three cabin classes to allow passengers to charge their own mobile phones and portable devices.
Emirates' next generation IFE system is complemented with connectivity on board. The airline offers Wi-Fi on 142 aircraft, more than half of its fleet, and Live TV now on 75 aircraft. Emirates began offering free Wi-Fi on board last year and has invested US$15 million to offer its passengers data connectivity in 2015. Other product enhancements include new micro fibre optic carpet in the First Class cabin which helps to reduce the effects of jet lag, and private suites in the centre aisle have been widened by 1.9 inches.