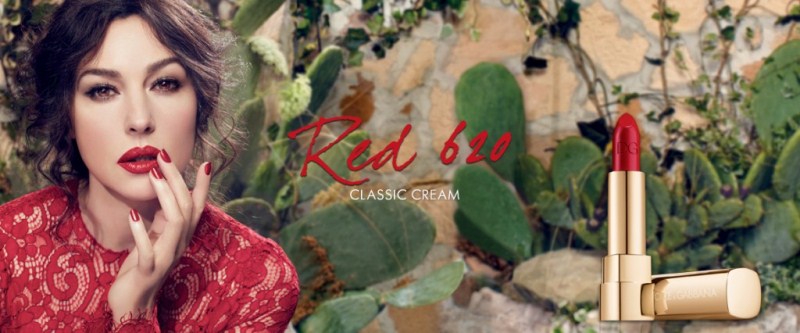 Dolce & Gabbana introduces a range of new shades to their Classic Cream Lipstick line, that provides persistent color and long-lasting moisture. The heart of the Dolce & Gabbana Make Up collection, Classic Cream Lipstick is an indispensable lipstick that's creamy and velvety, with outstanding coverage and payoff.
The campaign, which launches the new Classic Cream Lipstick colours, marks Domenico Dolce's debut as the photographer for the Makeup collection, with the creative direction of Stefano Gabbana. Face of the campaign is Italian actress Monica Belucci.
Two different shots represent the two faces of Italian seduction. In the first, Monica is wearing Classic Cream Lipstick in bright Devil red that matches the lace dress she is wearing. In the second, the actress appears softer, dressed in neutral shades and wearing Petal lipstick.
Dolce & Gabbana Classic Cream Lipstick offers intense colour with rich moisture for long-lasting seductive lips. Embrace your mood with an array of feminine shades, from delicate nudes to vibrant reds.
"A WOMAN'S LIPS ARE THE KEY TO HER SEDUCTIVENESS. FOR US, LIPSTICK IS POETRY AND BEAUTY. IT CAN MAKE EVERY WOMAN MEMORABLE." DOMENICO DOLCE AND STEFANO GABBANA