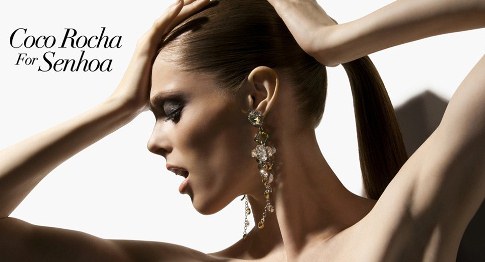 Coco Rocha is adding to her impressive and admirable list of charitable work (she's worked with the Environmental Justice Foundation and the orphan-aid organization LakayPAM for Haiti) with the creation of her new jewelry collection with Senhoa, an organization devoted to helping Cambodian victims of human trafficking.
"I'd never really thought about creating a jewelry line before," Coco said. However, after meeting Senhoa founder Lisa Nyugen at her wedding and learning about the cause, she knew she wanted to do more with the organization.  "We decided that a jewelry collaboration was probably the best way I could lend my voice to the cause and so I really poured myself into the process of designing the jewelry."
Focusing on bold statement pieces that reflect Coco's own personal taste, the collection features Swarovski crystal and multi-chained necklaces, earrings, and bracelets ranging from $65 to $195.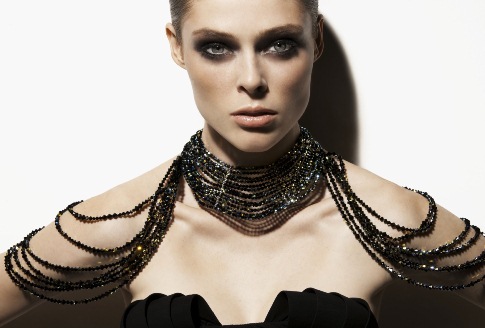 "I tried to create pieces that I thought were powerful and beautiful which I felt perfectly symbolizes the Senhoa girl who is being empowered through the program."
To help promote the cause, Coco had Nigel Barker photograph the campaign with a powerful line-up of models including Behati Prinsloo, Caroline Trentini, and Coco's icon, Iman. "In the future I'd love to see all kinds of beautiful and powerful women wear this jewelry line and show their support," Coco said. "Right now I'm thinking Oprah, Julie Andrews and Barbra Streisand! How amazing would that be!?"
Graced with the slogan, "accessorize your conscience," Coco hopes that "unlike many purchases we might make for ourselves, we [won't] feel guilty about this one! 100% of the proceeds go back to helping these girls who are some of the most vulnerable members of society."
Join the cause and purchase Coco's collection at  senhoa.org/cocorocha!