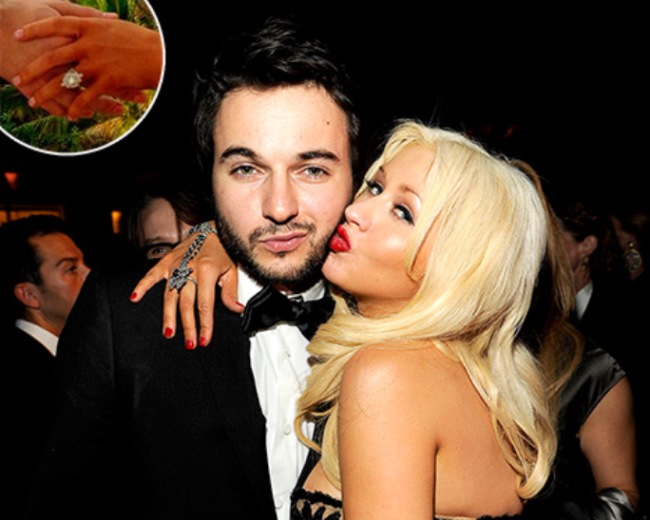 Celebrities everywhere felt the love on Valentine's Day, but perhaps no one more so than Christina Aguilera, who, oh-so-appropriately, got engaged to boyfriend Matthew Rutler on the romantic holiday!
The 33-year-old pop singer, who got engaged to boyfriend Matt Rutler on Valentine's Day, Christina Aguilera showed off her new sparkly engagement ring in a photo posted on Twitter over the weekend.
He asked and I said…… pic.twitter.com/XWZVZOjDX1

— Christina Aguilera (@xtina) February 15, 2014
Rutler, a film producer whom Aguilera has dated since 2010, popped the question in Hawaii-one of the most romantic places in the world-on the most romantic day of the year. We applaud him on a job well done!
The ring itself appears to be a showstopper, just like its Grammy-winning owner. A source told People all about the unique multi-stone engagement ring, which Rutler helped design.
"Matt spent over a year designing the ring with the ring designer to represent their three-year journey together as a couple," the source said. "He has been planning this for a while and was just waiting for the right time-the ring has been done for months. Every single placement of each stone has a reason and meaning."
The symbolism goes beyond the stones-Rutler coordinated all of the bands' features, including some visible to only Aguilera, to create one of the most interesting pieces of engagement jewelry we've seen in a while! "The actual band weaves and intertwines [the] diamonds," the source added. "Every connecting criss-cross symbolizes how their paths crossed… the ring narrows at the base [to] reflect how their bond continues to grow closer and stronger over time. There are nine special multi-color gemstones that you cannot see. They all symbolize something meaningful to the couple. Christina is very spiritual and having the stones touch her actual skin will emit positive energies surrounding her at all times. They represent things like love, protection and healing."
In designing the sparkler, Rutler clearly thought about its significance, but he also took Aguilera's personal style into consideration. "He took two of Christina's favorite rings…to design something that incorporated [both designs] into one," the source said. "Similar to both their lives coming together as one."
Hey, Christina? This one sound like a keeper! We're ready for an incredibly personalized wedding next.
Congratulations to the happy couple!
This will be Aguilera's second marriage. She was previously married to music producer Jordan Bratman from November 2005 until October 2010. The exes share custody of 6-year-old son Max Bratman.
(Photo Credit: Kevin Mazur/Getty Images; Courtesy Christina Aguilera)