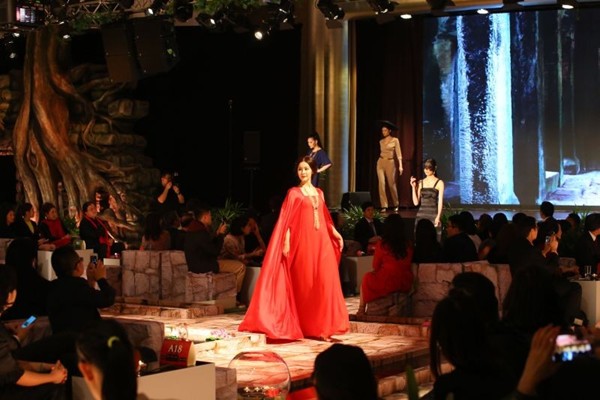 Chow Tai Fook recently held the preview of its fourth annual High Jewelry Collection, Reflections of Siem, at the Grand Hyatt hotel in Hong Kong. Against a backdrop of majestic tree trunks and stone motifs reminiscent of Angkor's historic walls, Executive Director and art pioneer of Chow Tai Fook, Adrian Cheng, introduced the vision behind the collection before launching the show. Amidst the sounds of deeply ambient Cambodian rhythms, models walked among the guests and VIPs, showcasing the stunningly beautiful jewelry pieces.
This year's collection, Reflections of Siem, was inspired by the storied and historical nation ofCambodia, whose natural beauty and culture have withstood triumphs and tribulations, and the test of time. Featuring twelve breathtaking sets with inspiring titles like The Chant, The Zephyr and The Halcyon, the beautiful collection represents the pinnacle of Chow Tai Fook's creative vision and expert craftsmanship. Having made its debut in Hong Kong, it will now go on show in cities around China.
"From ethnic to contemporary, good designs should reflect the aesthetic and spirituality of human culture. Reflections of Siem brings us back to the land of a thousand tales – Cambodia. Through the rediscovery of human heritage, we go back to our roots and unearth the true beauty that lies within." said Adrian Cheng.
Chow Tai Fook's The Reflections of Siem High Jewelry 2014 collection will put on auction on October 12.