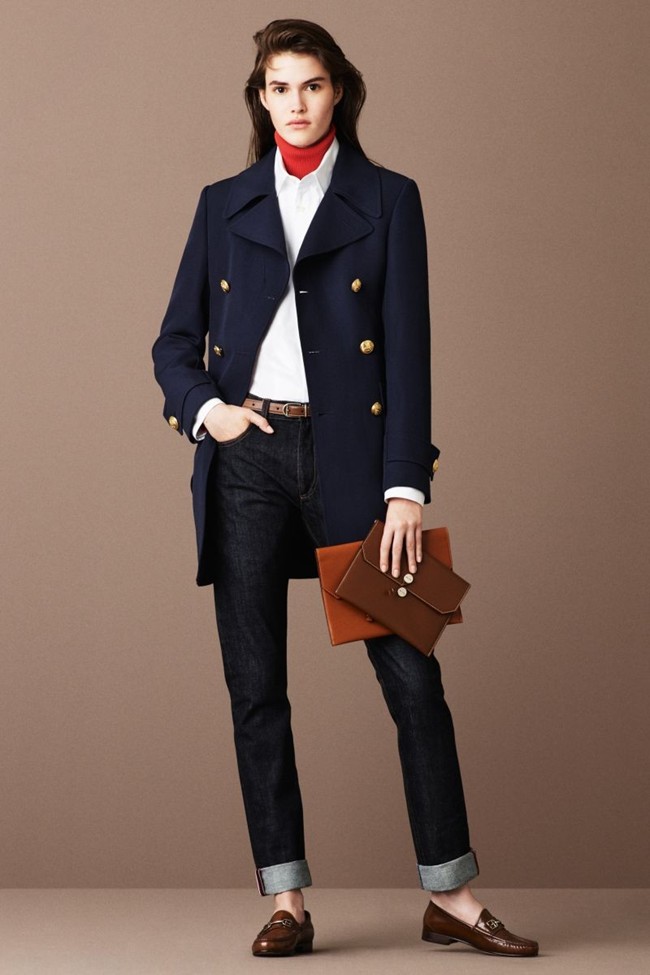 Why choose between California's wilderness, the asphalt expanse of LA or the boulevards of Paris, when you have the lot? The Bally 2016 Resort Collection makes every adventure possible, whether trekking the beaches of Big Sur, cruising through downtown LA, or visiting a gallery in St. Germain. Subtle remixes of 70s' cool in an individualistic retro style. Neo-preppy urban attitude, wearing navy blue leather over a striped red Breton top, with a hint of the Wild West in fringed suede or nappa. Anything is possible.
The collection speaks to a woman who is fresh and naturally sophisticated like a young Ali McGraw, or an underground artist effortlessly clad in men's pyjamas and sunglasses, worn under a cashmere coat at a downtown opening, like an eccentric Yoko Ono. A rendezvous between the old world and the new world: A classic pea coat with gold buttons, or leather shorts suit? The lightness of the new 'Bloom' sandals or iconic Bally hiking boots.
A pomegranate leather bomber jacket embraces the flared tailoring of a bubble gum pink Charlie's Angels trouser. A bohemian micro jacket mixes with the uncluttered simplicity of a cream leather coat worn as a dress. This wardrobe reinforces the clash of cult pieces: the A-line skirt, the fitted lumberjack shirt in wool angora, or a box jeans jacket in tan leather. Borrowing inspiration for her Sommet Belt bag from his thick canvas rucksack inspired by the Swiss Army.
The mood is at once classic and brazen. Navy blue, black or tobacco suede become allies and combine with the richness of saturated pop hues or with the mirrored lenses of the new sunglasses, iridescent with technicolor. At the heart of the Resort Collection, the woman embraces contrasting styles because she can; because she is unafraid to try new things. She is his best friend rather than just his girlfriend.