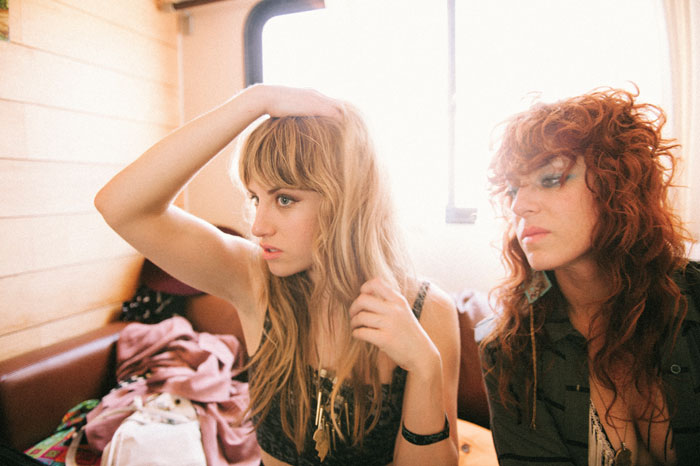 (L-R) Lindsey Troy, Julie Edwards
Los Angeles-based shit-kicking hard rock duo Deap Vally (comprised of lead singer/guitarist Lindsey Troy and drummer Julie Edwards) doesn't really care that rock 'n' roll — besides the occasional contribution from the Black Keys or Jack White — isn't exactly burning up the Billboard Hot 100. They don't really care that the media will always make mention of the fact that they are two women playing music that could be called "cock rock" if they were men. And they sure as hell don't care that the pared down guitar/drum combo makes their live shows­ (which have included opening for the Yeah Yeah Yeahs) as exhausting as they are raucous.
"It's very high stakes with a two piece. There's no one backing you up if you screw up, you can't take a break or feel tired during the show," says Edwards. "There's kind of a danger, an instability to the set up that we like; we think it's very fundamental to the spirit of rock 'n' roll. It's not being faked."
The only thing these two friends — who actually met during a needlework class in Silver Lake — care about is playing their wide open brand of bluesy hard rock as loud as possible. If the surly, stadium-ready yawp of their recently released debut album Sistrionix is any indication, they've accomplished their mission. With tracks like the tar-black, Sabbath-riffing "End of the World" and the buzzsaw guitar squall "Lies," Troy and Edwards showcase how lethal and devastating their spartan setup can be.
"We embrace the simplicity. I don't think we'd ever want to use traks or a laptop or something like that. Too much technology… it can become haunted," says Edwards. "There's gotta be people out there who need hard rock, people who feel twisted up inside and need this cathartic, heavy music to help them out."